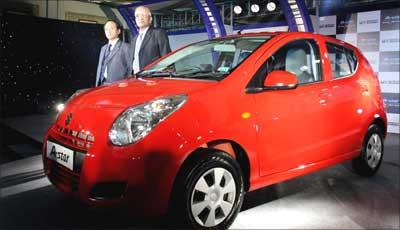 Maruti Suzuki on Wednesday launched its new hatchback A-Star in the Indian market and said it would in four years come out with its first indigenous car.
The A-Star will be available at an introductory price ranging from Rs 347,000 to Rs 412,000.
"We have started the ground work to launch a car which is conceived, designed and developed fully in India," Maruti Suzuki India managing executive officer (engineering) I V Rao told PTI. The company is hopeful of rolling out the car in the next four years, he added.
He however, declined to comment whether it would be a small car or a bigger one.
"We are discussing it internally," Rao said.
A-Star is Maruti's fifth global model which would be manufactured only in India. The company plans to sell 50,000
units in the domestic market, while targets to export 100,000 units.
The car would be manufactured at Manesar production facility.
A-Star will be powered by a 998cc K10B petrol engine and will be available in three variants in the domestic market.
For exports, the company would manufacture A-Star in over 200 variants and sell to around 150 coutures across
Europe, the Middle East, Latin America, Asia, Australia and Africa.
The company expects that A-Star would contribute half of its overall export target of 200,000 units by 2010-11.
Text: PTI

Image: Chairman of Maruti Suzuki India Ltd R C Bhargava (L) and director of sales and marketing, S Oishi (R) pose with the newly unveiled Maruti Suzuki A-Star in New Delhi | Photograph:  Manan Vatsyayana/AFP/Getty Images