The markets resumed their winning streak after snapping their 8-day run on Friday as the Sensex ended at 19,702 up 281 points, and the Nifty closed up 82 points at 5,908.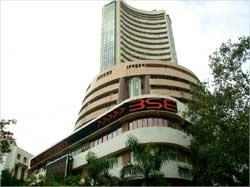 The bourses opened higher today on the back of positive US jobs data and Asian stocks, currently at 3-year highs. Earlier in the day, the Sensex, although firmly in the green since opening, touched its intra-day low of 19,449, post which a recovery was seen.

Range-bound trade dominated till the late morning session, but closer to noon, heavy buying on the IT, consumer durables and metal counters propelled the markets, which touched the day's high of 19,730 close to 1500 hrs.

With the impending corporate earnings season, the markets were upbeat, with analysts expecting the Q4FY11 results to outperform the previous quarter, and healthy advance tax collections, witnessing the highest growth rate since 2008, indicating encouraging fiscal results as well.

However, sounding cautious on the gains seen in the markets over the past few sessions, Nilesh Shah, President (corporate banking), Axis Bank, said, "It is difficult to predict the markets in the short-term, especially after it has rallied for eight consecutive days. The valuations of Indian markets were at a reasonable level compared to its global peers.

That is the reason why foreign institutional investors (FIIs) have put money into India."

Moving on to the significant stock movements so far, auto firm Mahindra & Mahindra was the top Sensex gainer at Rs 744 up 5%, followed by Jaiprakash Associates at Rs 98 up 3% and BHEL at Rs 2,174 also up almost 3% after the company declared its FY 2010-2011 provisional net was up 40%. Banking major HDFC Bank was also up 3%, followed by TCS, L&T, Maruti Suzuki and Infosys, which were up between 2-3%.

Reliance Communications at Rs 109 down more than 2% due to investigations into its alleged involvement in the 2G scam, was the top loser on the Sensex, while FMCG major Hindustan Unilever at Rs 279 and Cipla at Rs 316 were both down almost 2%.

The mid-cap index moved in line with the Sensex at 7,100, up nearly 2%. Major gainers in this space were Patel Engineering at Rs 173 up 17%, Onmobile Global at Rs 275 up 13%, Fresenius Kabi at Rs 102 and SRF at Rs 361 both up 12%.

Talking about the mid-cap sector, Nandish Patel, a derivative analyst from Sharekhan, said, "Select midcap stocks has seen good addition and also options data are showing good sign; so we may see stock specific movement in midcap stocks."

Small-cap stocks outperformed the benchmark, and the index was up 3% at 8,595. The significant gainers on this index were PI Industries at Rs 696 up 19%, CCL Products at Rs 228 up 17%, Vascon Engineering at Rs 101 and Polyplex Corporation at Rs 245, both up 16%. English Indian closed up 15%, while Steel Strip Wheels and AGC Networks advanced 14% each.

Amongst the sectoral indices, the Capital Goods index topped the chart at 13,662 up 2.4%. BGR Energy up 7% at Rs 537 was the highest gainer, followed by Alstom Projects at Rs 629, also up 7%, and Punj Lloyd at Rs 72 up 6%. Havells India at Rs 396 and Thermax at Rs 663 both moved up 5%.

IT stocks saw a significant degree of buying, and the index advanced 2% to 6,659. HCL Technologies led the IT space, with the stock closing up 5% at Rs 489. Financial Technologies at Rs 919 advanced 4%, while Oracle Financial at Rs 2,034 and TCS at Rs 1,212 both gained 3% each. Commenting on the IT space, Devangshu Datta, a technical analyst said, "The CNXIT may hit 7,250-7,275 where there's a lot of resistance; one can expect support at 7,150 -7,175."

The Auto index also moved up nearly 2% today at 9,527, with Mahindra & Mahindra topping the index at Rs 744 up 5%, followed by Amtek Auto at Rs 156 and Maruti Suzuki at Rs 1,201 both up 2%. Bharat Forge and Exide Industries were also up 2% each.

With 2,437 advances and 477 declines, the market breadth was extremely positive.

Most major Asian markets closed in the green today, with Japan's Nikkei at 9,719 moving up negligibly, and the Shanghai Composite gaining a little over 1% at 2,967. The Hnag Seng scaled up 1.5% at 24,151, while Singapore's benchmark, the Straits Times, closed up 0.7% at 3,141.The Taiwan Weighted ended up 0.3% at 8,705, while conversely, the Seoul Composite declined 0.2% to 2,116 at close.

On the European front, major indices were trading flat, with the UK's FTSE 100 quoting at 6,024 up 0.2%, France's CAC 40 down 0.1% and Germany's DAX at 7,185.