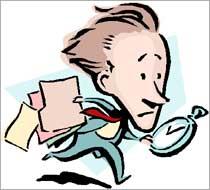 Managers cannot be termed workmen, the Bombay high court has held, in a significant verdict that throws light on a vexed issue on who constitutes a workman in the post-liberalisation era.
Observing that Industrial law must keep pace with times, the court also held that managerial organisation today is radically different from the pre-liberalisation era.
"Managers do not become workmen because their decisions are structured by processes and approvals. Absolute autonomy is not a norm in managerial decision-making. Nor does a law insist on absolute discretion or absolute automony for a person to be a manager", observed Justice D Y Chandrachud.
Justice Chandrachud gave the verdict that could have a bearing on the contemporary corporate world while upholding the claim of Standard Chartered Bank that its sacked employee Vandana Joshi was in managerial cadre and not a clerk.
"Tests appropriate to a society 30 years ago have become relics of an era which India left behind in annals of history", he said. Joshi was appointed as personal finance manager of the bank on May 2, 2006 but her services were terminated seven weeks later on June 23 on account of 'deficiency in service'.
She challenged her removal saying she was doing clerical duty falling within the definition of workman under Industrial Disputes Act.
"The fact that decisions of an employee are subject to verification or subject to a system of controls and balances does not establish that the employee is a workman within the meaning of Section 2(s) of Industrial Disputes Act", Justice Chandrachud remarked.
The Industrial Tribunal had upheld Joshi's claim and set aside her termination prompting the bank to appeal in high court.
The high court set aside the Tribunal's order. Joshi argued that she had no authority for opening bank accounts; that she had no power to sanction leave or to take disciplinary action.
She was merely performing duty of a clerk and was not doing any managerial duties. The court observed that 'virtual offices are now a reality and paperless transactions no longer a novelty'.
The court further observed, "Modern forms of business in corporate organisations put into place a carefully crafted process of checks and balances. Rarely, if ever, would an employee have authoritarian control over business decisions.
"Employees are made subject to checks and balances both at the lateral and vertical level. Managerial decisions are subject to verification and approval.
"Basically the answer to the question must depend upon the dominant nature of the duties and responsibilities," the court said.
"The Tribunal has applied a superficial approach to the entire problem in determining whether Joshi was a workman within the meaning of Section 2(s).
The Tribunal ought to have travelled beyond a superficial analysis of whether or not she was entitled to recommend leave or initiate disciplinary action.
"That the Tribunal has failed to do so has led to a manifest failure of justice", the judge said.