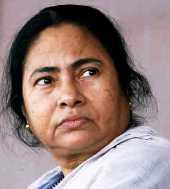 The wind of change promised by Trinamool chief Mamata Banerjee seems to have taken the Burabazar market by storm.

In the run up to the West Bengal Assembly polls, traders are going gung ho about 'Brand Mamata'.

They also hope to cash in on 'Didi's' popularity and the party's spending capacity over other contesting political parties with the flags, posters and props for sale.

"We are expecting a huge demand of Trinamool flags for the upcoming polls as compared to other political parties. Around 70 per cent of our stocks are of Trinamool Congress and the balance 30 per cent are CPI-M's and other party flags," says Apurva Saha, a wholesale dealer of flags in the Burrabazar market.

In the run-up to the municipality polls in 2010, the city was virtually draped in the tri-coloured All India Trinamool Congress flags, a picture that would have been unimaginable in the red bastion a few years back.

"We did brisk business during the last municipal polls as there was substantial order for TMC flags from the party local committees, and this time around we are expecting similar demands," adds Saha.

Within a span of six months, prices of flags have gone up.

"A one-meter flag would cost Rs 11 six months back, but owing to the hike in cloth prices, it's being sold for Rs 16 now," says Jaganath Santra, another trader.

However, he was quick to add: "It's not the hike in cloth prices that has made a difference, it's 'Didi's picture on flags and accessories that's the determining factor for the rise prices.

"We have been introducing new items like caps, key rings, pens, badges and umbrellas with Mamata's picture.

"The prices are anywhere between Rs 5 to Rs 300. A standard satin flag with Didi's face would be priced at Rs 50."

Burrabazar has recorded Rs 200,000 per day revenues selling election props.

"Apart from TMC flags and banners, party workers are also buying TMC T-shirts and TMC sarees priced at Rs 50 and Rs 250 respectively," says Dipankar Das, a retail supplier from Canning, who came to collect an order of Rs 10,000.

"It's the masses that connect with Didi and if the market is manufacturing merchandise, it surely indicates the popular demand and her mass appeal," says Partha Chatterjee, TMC leader.

"However, under the latest guidelines of the Election Commission on the fixed prices of flags by Rs 70, the party will have to cut down on flags."

Manab Mukherjee, CPI-M leader and state tourism minister, says: "The chunk of the party flags are manufactured by the party instead of buying from wholesale dealers.

"The flags are made from Poplin cloth with silk printed party symbol as the left front constitute democratic unit with a definite ideology unlike the single-face party like TMC where Mamata Banerjee dominates the party scene by sidelining other faces of the party."

"The enormous spending capacity of TMC during its election campaign also directs to the amount of illegal money that are being sourced through corrupt means," Mukherjee alleged.
Image: Mamata Banerjee