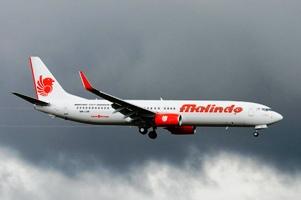 Competition among the airlines on the India-Malaysia sector has further intensified with the entry of Malaysia's hybrid airline Malindo Air.

According to experts, the new entrant with its aggressive plans could give tough competition to Malaysia Airlines and AirAsia, two strong players in this sector.

Malindo Air on Thursday launched a daily service on the Kuala Lumpur-Trichy-Kuala Lumpur sector.

According to Chandran Rama Murthy, chief executive of Malindo Air, the airline will have three flights a day by the end of 2014 and an evening service will be introduced by May.

The airline will launch services from Mumbai and Ahmedabad to Kuala Lumpur. It will also introduce new services from Kuala Lumpur to Chennai, Madurai, Coimbatore, Cochin, Hyderabad and Visakhapatnam.

According to Capa Centre for Aviation, Malindo is targeting the Kuala Lumpur-Delhi and Kuala Lumpur-Mumbai
routes, which are currently served by Malaysia Airlines.
It will compete against AirAsia to Trichy and will become the only carrier linking Kuala Lumpur with Ahmedabad.
With 23 weekly flights to India, the carrier will have 4,140 one-way seats in the Malaysia-India market.
This accounts for a 15 per cent share of the total capacity in the Malaysia-India market.
Once all the Malindo flights are added, MAS will see its share in the Malaysia-India market drop from 53 per cent in December 2013 to 46 per cent in March this year, according to Capa.
Similarly, AirAsia's share will drop by eight percentage points from 43 per cent to 35 per cent, said Capa.
MAS operates 66 weekly flights to six Indian destinations, while AirAsia has 56 weekly flights to five Indian destinations, according to data by global flight information company OAG.
A million origin-destination passengers travel between India and Malaysia annually on non-stop services.