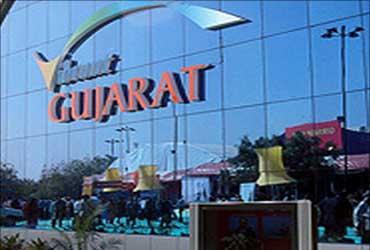 Malaysian diplomats on Thursday described Gujarat as a 'vibrant' state that is witnessing development.

To find out opportunities for Malaysian companies and increase trade with Gujarat, Consul General in India, Mohamed Hatimi Abas and Vice Consul Omar Salleh today visited a trade exhibition at Gujarat University Convention centre.

They were on their first visit to the city and inaugurated the fair.

"We are here to encourage Malaysian corporates to increase trade with Gujarat based firms.

"Gujarat is a vibrant state and we see lots of development in this city. The Sabarmati river-front is very impressive" said Vice Consul Omar.

He is also the Assistant Trade Commissioner of Malaysia External Trade
Development Corporation.
Hoping to bring down the trade deficit between India and Malaysia, Abas stressed on the need for collaboration in various sectors.
"We are exploring opportunities for our firms in various sectors here, like construction, oil exploration, logistics and education.
"We earlier met industry leaders of Vadodara and also sent invitation to Ahmedabad based businessmen to find out opportunities" said Abas.
As per the figures shared by them, trade between India and Malaysia accounted for $13.38 billion in 2013.
However, Malaysia's export to India declined significantly by 14 per cent while import saw a growth of 36.4 per cent during the period.
"This means that we are buying more from India and selling less. Thus, we are eyeing tier-II cities like Ahmedabad to find out opportunities for our firms," said Omar.