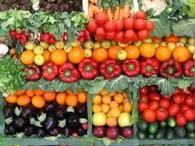 In an effort to reduce post harvest losses of perishables and provide consumers good quality farm products, the Maharashtra government has decided to set up three Terminal Market Complexes (TMC) in the state.
The TMCs will come up in Mumbai, Nashik and Nagpur. The Rs 250-crore (Rs 2.5 billion) worth Mumbai TMC will come up on 92 acres of land at Babgaon, three kms away from Kalyan on the Nashik-Kalyan Road in Bhiwandi situated in Thane district.
The government has invited applications from reputed players in the field of agri-business, infrastructure development with Request for Qualification (RFQ) in order to shortlist eligible and competant authorities who can subsequently bid for Terminal Market complex for perishables.
"Under the present marketing system, producers and consumers suffer the most. The quantum of middlemen is also too high. Terminal Market is being built to reduce post harvest losses which are now upto 30-40 per cent for perishable goods like fruits and vegetables," Marketing Minister Harshvardhan Patil told PTI.
Also, farmers will get more remunerative returns by cutting losses and reducing middlemen, he said. Terminal Market Complex is a place where agro products especially pershiables like fruits, vegetables, flowers, herbs, meat, poultry and non-perishables like food grains, oil seeds, pulses, cereals are brought from collection centres and processed.
Principal Secretary (Marketing) S K Goyal said that 7-8 bidders have submitted requests for qualification (RFQ) to build the terminal market in Thane district near Mumbai. The shortlisting of bidders will be completed by this month end following which they will be asked to submit the proposals.
With a daily handling capacity of an estimated 3000 metric tonnes, the terminal will provide state-of-the art infrastructure to electronically auction, grade, wash, package, process and export perishable and non-perishable products, Patil informed.
The Nashik Terminal Market, with an estimated project cost of Rs 60 crore (Rs 600 million) will have handling capacity of 1000 metric tonne/day. About 100 acre of land will be required, Patil said. While the TMC at Nagpur will have an handling capacity of 750 metric tonnes per day and will be built at an estimated cost of Rs 55 crore (Rs 550 million), he said.
Goyal said the government has yet to identify land in Nashik and Nagpur and hand it over to the Maharashtra State Agriculture Marketing Board for the bids to be invited. Global tender notice issued earlier for Mumbai TMC was cancelled due to poor response. Bidders who applied for fresh RFQ will be shortlisted and Request for Proposal (RFP) will be sought following which contracts will be awarded, Patil said.
The central government will provide equity assistance upto 49 per cent of project equity, returnable at market/fair value to be decided at appropriate time, he said. Patil said the Public Enterprise which wins the contract has full freedom to fix service charges based on commercial and viability considerations.
The highest bidder will set up collection centres which will be connected to the TMCs which will help reduce post harvest losses, Patil said.
Apart from reducing the post harvest losses due to the present marketing system, Terminal Markets will link farmers directly to the markets and provide more alternatives to sell their produce and reduce the number of intermediaries.
The Terminal Market complex concept comes from the National Horticulture Mission launched by the Centre in 2005-06 and there will be 21 TMCs in the entire country. TMCs will also help promote export of horticulture produce and processing in the state.
It will initiate the system of using modern technologies in the marketing system and establish a cold chain with the help of private players.
The Terminal Markets will be established in a Public, Private Partnership mode. The proportion of non-perishables in the Terminal Markets shall not exceed 15 per cent of the throughput capacity of the Market.
Similarly, the proportion of non-horticulture products within the perishable commodities shall not exceed 15 per cent of the total throughput of the market. TMCs will lead to creation of more employment opportunities and also check bogus stocking, he said.
The equity from the state government will be in form of land for the Mumbai TMC has already been handed over to the Maharashtra State Agriculture Marketing Board which is the nodal agency.