Sharp at 0800 on October 25, luxury cruise vessel M V AIDA CARA docked at Cochin Port amid cheers from onlookers. This cruise vessel, which, arrived with 1,135 high net-worth guests, predominantly from Germany will stay at BTP berth and sail out at 2000 hours on October 27.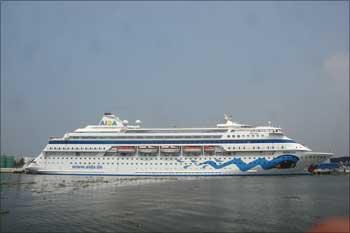 The Department of Tourism, Kerala accorded a traditional welcome to the guests by applying 'thilakam' with the accompaniment of  'panchavadyam', 'thalappoli', 'theyam' and 'Kathakali'.
The arrival of this cruise vessel marks a new beginning for the Cochin Port with passenger turnabout involving a total of 1937 guests (983 disembarking and 954 embarking). M V Aida Cara is the first cruise vessel to make use of Cochin as a turnaround port. This also brings to prominence the standing of Cochin as the most cruise friendly destination in this part of the world.
On arrival, 172 guests took to Cochin City tours in six luxury coaches and 140 guests took pleasure trip to places of tourist interest in Fort Kochi and Mattancherry in 'tuk-tuk' - the autorikshaw ride which is very popular among the guests.
Another 180 guests took six coaches and six boats to savour the "Cochin Flavour" in and around places of tourist interest at nearby islands.
One hundred and forty seven guests in five coaches opted for 'traditional sojourn' to Vaikom to visit the Vaikom Mahadeva temple, classical music school, khadi weaving centre, coconut oil extracting factory and the village craft centre.  A ride in houseboats through the narrow backwaters, and lunch at local places were arranged for those who opted to stay back. They will also enjoy the demonstration of bamboo basket making, toddy tapping, rope and pottery making.
One hundred and eighteen guests in four coaches and ten house boats will take backwater cruise at Alleppy, 'Venice of the East' and sail through the scenic backwaters, canals and lagoons and anchor to explore snake boat building yards, coir industry, the Champakulam Church and also lunch at the Lake Palace, Alleppy.
For the rest of the guests who desire to visit places of their own choice, elaborate arrangements have been made for availing private tourist taxis and autorikshaws.
A set of 954 guests are scheduled to arrive on October 26 in four chartered flights at Cochin International Airport. Fifty luxury coaches have been arranged for passengers and 20 trucks to carry   their luggage from the airport to the Cochin Port.
Similar arrangements have also been organised for the 954 embarking guests who will get an opportunity to enjoy the scenic beauty of the tourist locales in and around Cochin, backwater tours and sightseeing on October 27.
JM Baxi are the agents for the Vessels and the tours are being conducted by Intersight Holidays in collaboration with Serene Holidays, Athira Holidays, Dravidian Trails, Kuoini Destinations and Marvel Tours.
This is a maiden turnaround event taking place in Cochin and will give tremendous boost to the local economy, particularly the tourism and hospitality industry and will help to generate employment opportunities for the locals as these activities pick-up and grow in future. Based on the success of this visit, AIDA Cruises are planning to make regular use of Cochin Port for passenger turnaround of other vessels of their group.
Another prominent cruise line Louis Cruises, based in Cyprus has recently announced their decision to make Cochin Port as their homeport for their vessel M V Aquamarine, which has a capacity to carry 1200 passengers. This vessel has been suitably modified to suit the requirements of Indian clientele and to exclusively cater to the Indian tourist segment. These cruises are expected to commence from December 1, 2009 and would initially visit Colombo and Maldives once in a week.