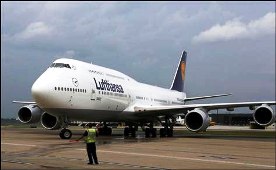 Lufthansa Airlines operations ground to a halt on Monday due to a one-day union strike at its German hubs.

As a result, the airline's flights from Germany to Mumbai, Delhi and Bangalore and their return legs were affected.

The airline said it was making alternative arrangements for passengers in India.

It said the flights from India would depart by schedule early Tuesday.

Nearly all Lufthansa flights within Germany and Europe would be cancelled.

In all, only 20 of the 1,650 planned Lufthansa short-haul flights on Monday would operate due to the limited flight schedule, the airline said.

It said it was operating only six long-haul flights from Frankfurt and seventeen flights from Munich due to the labour trouble.

The airline's union has been demanding wage increase for its ground and technical staff, and decided to strike after failing to reach a settlement with the management.

"Disputes over pay and conditions have resulted in a series of strikes at Lufthansa.

"Last month, one-day warning strikes forced the cancellation of 700 flights.

Lufthansa is trimming costs and restructuring operations to better compete with low-cost carriers, and cope with high-fuel costs and slack economic activity in Europe.

In March, Lufthansa estimated the cost-cutting program would contribute Euro740 million to this year's operating profit.

"The measures have met with union ire, however, and strikes by Lufthansa employees and airport workers cost the airline Euro33 million last year," according to a report in The Wall Street Journal.
Image: A Lufthansa flight | Photograph: Larry Downing/Reuters