Cooking gas distributors are threatening to go on strike on October 1, opposing the restriction on sale of subsidised cylinders.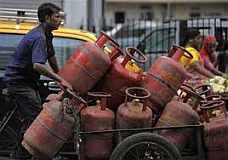 The federation will be holding a meeting of around 1,200 dealers and member-associations tomorrow. "Without consulting us, wrong policies are being adopted that will create a black market and promote unfair trade practices," said Pawan Soni, general secretary, National Federation of LPG Distributors of India.

He told Business Standard they wanted the government to streamline the distribution network before taking a decision on capping subsidised cylinders. The problem, distributors indicated, was with the existing infrastructure they have to cope with, not the government's
authority to take such a decision.
"It is a policy decision of the government with which we have no fight. We have no issues with the government charging market price for all cylinders. Giving of subsidy is a government prerogative," clarified Soni.
Among the things the distributors want is revision of the commission of Rs 25.83 a cylinder that oil marketing companies give them. This was earlier revised in 2010. "We have about 200,000 delivery men in the country that get just Rs 8 a cylinder," said Soni.
The Cabinet Committee on Economic Affairs had on September 13 decided that consumers of domestic LPG cylinder would get a subsidy for only six refills. Subsidised cylinders are priced currently at Rs 399 in this city, while the non-subsidised cylinders will cost around Rs 750.