Q3, 2013-14 GDP growth rate has somewhat disappointed economy-watchers.
However, a miss of 20 basis points in a quarterly GDP estimate is not really a big deal. Few people were expecting the Budget estimates to be actually met.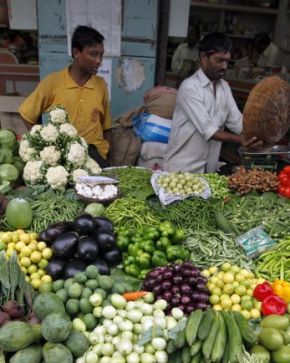 The estimate of 4.7 per cent growth in Q3 is lower than the consensus expectation of 4.9 per cent.
It makes the Interim Budget estimates of 4.9 GDP growth for the full-year impossible. The January-March quarter would have to log 5.7 per cent growth to ensure 4.9 per cent growth for the full-year.
There weren't any anecdotal signs of such a surge in activity during January and February.
None of the other data--under 4 per cent export growth, a falling Purchase Managers' Index- suggests that there's been much in the way of growth acceleration in Q4.
The GDP numbers destroy any hopes of an economic rally prior to the elections, and the installation of a new government.
In effect, that means waiting another two-three months.
In fact, GDP growth would have been just about positive if the Consumer Price Index (CPI) was used as a deflator, as it is in most nations.
In the meantime, the hope that a stable, decisive government will soon be installed and lift economic growth is driving the pre-election rally. If the NDA does get a stable majority, the market may shoot up further.
This could lead to a disconnect between valuations and fundamentals.
The timeline of economic recovery could certainly be accelerated by a decisive government. But the market and the common voter are probably over-optimistic about the speed at which five years of damage can be repaired.
While the BJP may speed up clearances, it has more than its fair share of rigidly socialist thinkers and a strong protectionist lobby.
It will not necessarily take the right economic decisions though it is more likely to take sensible decisions than the Congress, or the mythical Third Front.
We could see a situation where stockmarkets boom on a BJP victory, followed by a slow deflation over several months as investors realise the intractable nature of India's problems. Things will eventually get better whoever comes to power.
The good thing about teetering on the edge of a major crisis is that this compels some actions even from the most reluctant of politicians.
For example, what little there has been in the way of policy action in the past year or two has been triggered purely by fears of a sovereign rating downgrade and/or an external payments crisis.
Those possibilities have become less likely but they have by no means completely disappeared. Nor has the prospect of inflation spiking gone away.
These looming problems will force the next government to make some pragmatic decisions, whatever its ideological biases may be. It would be common sense however, to assume that a full economic recovery could take several years. Consumption demand is broken. Investment will take time to pick up.
Households, which hold the bulk of Indian savings, have tended to move into physical assets like gold and real estate. They will take a while to shift allocations back to financial assets.
Overseas investors are frankly, disgusted with the policy shilly-shallying and the constant tinkering with FDI regulations. The tensions with the US on the intellectual property front, especially with regard to pharmaceuticals, will also make investors more wary.
Assuming the next government does restart various infrastructure projects, those projects would eventually contribute to GDP.
But infra is also notoriously long-gestation and it could take a year or more before any benefits from new infra projects become visible.
Any investor needs to have a healthy dose of optimism. But he also needs to realise that an economy the size of India cannot switch direction at great speed.
Misplaced optimism could drive valuations up instantly if the BJP comes to power. But real economic recovery may take a much longer time.
During the great expansion of 2004-08, India like every other economy benefited from the floods of cash that finally caused the sub-prime bubble. In 2010-11, it benefited again from global easy money policies.
This time around, money isn't precisely tight, but it is not going to be as loose as during the previous recoveries.
This is a situation where patience, and the ability to ride out the volatility caused by political uncertainty, will probably count for more than stockpicking ability.
The rally through the last 10 sessions has already attracted some retail interest. But the macro-economic fundamentals haven't changed and it may be quite a while before they do improve.