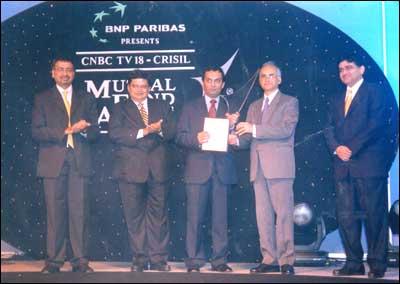 Franklin Templeton has won the mutual fund of the year award instituted by CNBC-TV18 and rating agency CRISIL.
Alliance Basic Industries Fund, DSP Merrill Lynch Opportunities Fund and UTI Growth Value Fund won the award for the open-ended equity diversified funds category while Birla Income Plus Plan B and Principal Income Fund won it in the open-ended income funds category at the award function last night.
Birla Bond Plus -- Retail and Principal Income Fund -- Short Term Plan bagged the award under the open-ended income short-term funds category while Alliance Cash Manger, Prudential ICICI Liquid Plan and Templeton India Treasury Management Account won it under the head for open-ended liquid funds.
Templeton India G-Sec Fund -- Composite Plan and Templeton India G-Sec Fund -- Long Term Plan won the award under the open-ended gilt-long term funds category while FT India Monthly plan won it under the open-ended monthly income plan.
Left to Right: Haresh Chawla, CEO, CNBC-TV18, R Ravimohan, MD & CEO, CRISIL, Ravi Mehrotra, President, Franklin Templeton, GN Bajpai, SEBI, Ex-Chairman and Sharad Sharma, BNP Paribas at the CNBC-TV18 - CRISIL Mutual Fund Awards for 2004.