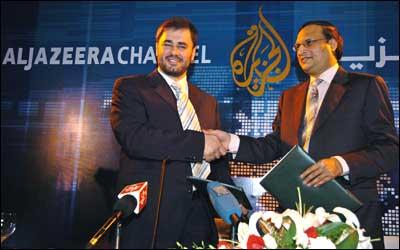 Al Jazeera, the Qatar-based news network, which shot to limelight with Al Qaeda tapes and the coverage of Afghanistan and Iraq wars, on Thursday signed an exclusive news bulletin sharing agreement with India TV, the Hindi news and current affairs channel.
The agreement, signed by Al Jazeera managing director Wadah Khanfar and India TV chairman Rajat Sharma, would provide each other with news bulletins for telecast.
It also includes exchange of real-time news updates from the respective regions.
The telecast of the Al Jazeera bulletins, dubbed in Hindi, would begin from Friday at 2300 hrs every day.
Addressing a press conference after signing the agreement, Khanfar emphasised that the channel was for building bridges between the Arab world and India and 'not for conflict and sensationalism.'
"We are truly aware of issues relating to India and more aware of its friendship with the Arab world," he said.
Sharma hoped that the arrangement would help both the channels to break more stories.
Al Jazeera managing director Wadah Khanfar (L) with India TV chairman Rajat Sharma after signing a bulletin sharing agreement in New Delhi on Thursday. Photo: Prakash Singh/AFP/Getty