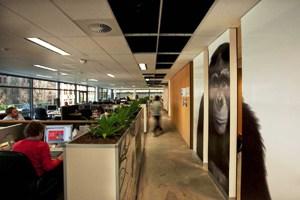 The energy is palpable as you step into the Central Mumbai office of ad agency Leo Burnett.

The dormitory-style office is aptly suited for what the newly-appointed chief executive officer Saurabh Verma and his boss Jarek Ziebinski, president, Asia-Pacific, Leo Burnett, propose to do as they prepare to put a tough 2013 behind them.

Ziebinski says, "We slowed down a little in India in 2013.

"It was not a great year for us.

"We were not happy with the rate of growth and speed of development in India. "The Indian economy is not helping us. But possibly we could help ourselves."

The Chicago-headquartered agency has brands such as McDonald's, Thums Up, Maaza, Complan, Tide and Whisper on its roster in India.

It is part of the Publicis Groupe.

Though ranked fourth in the pecking order in Asia Pacific, the Indian business contributes just about 10-15 per cent to Leo Burnett's revenues in the region.

Ziebinski is clear that he would like the contribution from India to go up as he looks at increasing APAC's share in Leo Burnett's global revenues.

"APAC contributes 20 per cent to Leo Burnett's worldwide revenues.

"We doubled the size of our operations, grew faster than any other agency network in the region and increased our scale in non-traditional advertising areas in the last few years. We would like to continue with this pace of growth," shares the Polish-born advertising executive, who has been at the helm of affairs at Leo Burnett in APAC for the last five years.

This follows a successful stint heading up operations in Eastern and Central Europe.

Verma, a strategic planner, who was hand-picked for the role, admits doubling revenues in the next three years is not going to be easy. But he claims he has a model in place to achieve this: "The more I talk to clients here, I realise that India is prime for receiving an integrated experience.

"Clients are tired of dealing with multiple agencies. "They are looking for solutions that are integrated in design.

"What clients, however, will not compromise on for integration is specialisation. That will be our challenge. "How do we make sure that specialisations that exists within our agency can be converted into an integrated experience?" Verma says that the way out would be to have integration managers rather than conventional account managers that have been the backbone of a traditional ad agency.

"The idea of an integration manager is one who does not understand digital alone, but the many disciples within digital.

"Verticals such as e-commerce, social, mobile, retail and shopper marketing.

"They can understand what consumer behaviour is all about across these verticals and create an integrated narrative that can tell a brand story that connects with people." To achieve this, Verma hopes to dip into Leo Burnett's proprietary tools and processes and implement its global philosophy called HumanKind.

He also does not rule out training to familiarise people with such integration.

"Stories happen across channels and are media-agnostic.

"We need to have people who can create these stories," says Verma, who was chief strategy officer of Leo Burnett in APAC before taking up his current assignment.

The process of integration, Verma says has begun in right earnest with the agency selecting 25 people across creative, strategic planning and account management, who will be sent to the Cannes Festival of Creativity next year as opposed to the customary two or three top agency executives who used to make the yearly trip to the French Riviera.

"Cannes is at the cutting edge of change and we want our people to be at the cutting edge of change," Verma says.

Ziebinski and Verma say that the company will continue looking at acqusitions as a means to bolster revenues.

"What we will look at in terms of acquisitions are those that are strategically complementary to our business," says Ziebinski.

Areas that the agency will target in terms of acquisitions remain advertising hotspots such as digital, shopper marketing, retail, social and e-commerce, where most Indian ad networks have invested significantly in the last few years.

Leo Burnett itself made a significant digital acquisition in April, 2012 of Indigo Consulting.

The agency will concentrate on strengthening sister concerns -- Orchard in Bangalore and Mumbai and Black Pencil in Delhi.

"These have been successful in their markets, especially Orchard. But we would like to strengthen them further," Verma adds.
Image: A Leo Burnett office