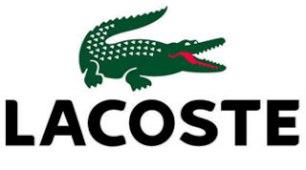 Rene Lacoste's iconic sportswear brand, Lacoste, was among the first international clothing companies to set foot in India in the 1990s.

In its early days, it enjoyed a large playfield with little competition.

Its Polo T shirts were an instant hit and continue to be so among all its offerings.

It is the largest contributor to its India sales at 30 per cent of the total revenue.

But in recent times, the onslaught of a large number of brands in the affordable luxury segment, such as Wills Lifestyle and Tommy Hilfiger, has the company changing tracks.

From being a men-focused premium sportswear brand, it is diversifying into being a whole-some lifestyle brand, adding women's wear, shoes, accessories and even a clothing line for children.

Youth has become another of its focus areas.

The company recently launched Lacoste Live, a youth-oriented brand aimed to catch the attention of youngsters who might turn into its potential customers 10 years down the line.

"Lacoste Live is where luxury meets street art to bring about a fresh bold and vibrant mix of products," says Rajesh Jain, CEO & director of Lacoste India.

Adding more products may well be paying off. It reported a sales growth of 30 per cent last fiscal and hopes to grow by 35 per cent this financial year.

However, its new offerings are still to gain the iconic stature that is enjoyed by its menswear portfolio, which continues to be the leader globally, says Jain.

But the women's wear is fast catching up. "About 40 per cent of our footfalls now are women," he adds.

The company is on a massive expansion spree.

By 2014, it plans to double the number of stores from 38 right now.

The expansion has also meant closing old stores
that did not fit the brands widened focus.
As a result several stores like the one in South Extension in Delhi, Church Street in Bangalore and R K Salai, Chennai were shut down to be replaced by larger 1,000 to 15,00 sq ft showrooms at more strategic locations.
In the last three years, new stores have come up in up-scale malls like DLF Promenade in Delhi and Ambience Mall in Gurgaon, Infinity Mall 2 in Malad in Mumbai, among other places.
Leveraging on the head start that it has in the Indian market, Lacoste is also charting out plans to expand to Tier II cities like Pune, Jalandhar, Chandigarh and Hyderabad.
"We saw families travelling from smaller cities to Delhi for their occasional shopping and hence expanding to smaller cities will only expand our customer base," says Jain.
However, for a niche brand like Lacoste to diversify into segments that it is not known for may prove to be a challenge, says Ankur Bisen, vice-president and head consumer products, Technopak, a research consultancy.
"You can associate a Tommy with pullovers, trousers and dresses, but Lacoste is still known for its Polo T shirts, so associating new products to its brand could be a problem," he adds.
Will this rapid expansion go against the company's grain and dent its brand identity? "Putting the right product at the right place is the key to keeping out identity intact and our growth," says Jain.
He says Lacoste's new offering are not taking the focus away from its Polo T shirts.
To reinstate its roots and to remind people of what it is primarily known for, the company recently launched Polo Lounge -- a chain of stores dedicated to a single product, the Polo T shirts.
"Till today the crocodile on the iconic Polo has its charm and continues to build its cult following even after 80 years of its inception," says Jain.