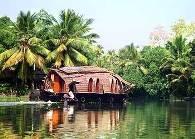 In a bid to attract more international tourists, mostly youth, Kerala Tourism Board has gone hi-tech and launched an innovative campaign by putting up its advertisement on YouTube and short videos on iPads and iPhones.
"This year, ahead of the international tourist season, we have decided to do the campaign differently to attract young tourists, so we tied up with Google to put up our new TV advertisement on their popular video portal YouTube," Director of Kerala Tourism Board Sivasankar told PTI.
Apart from it, the tourism body has also made arrangements for putting their short videos on Apple's iPads and iPhones.
"With global recession coming to an end and holiday season starting, we have targeted the young tourists from UK, Germany and France and Scandinavian countries like Sweden and Norway and other European nations, who are ready to take adventure tours and also ready to spend," he said.
With Internet becoming a major and reliable source of information about a destination for international tourists planning a vacation, "we have put our new advertisement on YouTube, which they can see and in the first three days of the launch we have got over one lakh hits."
In a TV or print advertisements, it is not clear whether the message has reached the right target audience but in Internet one can easily assess and make decisions according to it, he said.
The campaign on YouTube was launched on September 24, for which the board spent Rs 75 lakh and for iPad and iPhones, Rs 40 lakh. Despite using new technologies, the Board has not done away with the traditional form of advertising in print and broadcast media and has made a provision for Rs 100 lakh, he said.
Last year, during the recession, KTB witnessed a fall in the number of international tourists. In order to attract more domestic tourists, Sivasankar said it carried out intense campaign and conducted over 16 partnership meets with travel agents, hotel and other stakeholders in around 16 cities, including tier-II cities like Lucknow, Pune and Bhopal.
"As a result, we received over 2.5 lakh domestic tourists last year and this year we have planned to hold 22 such meets in India and six-seven cities of Europe, including Scandinavian cities like Stockholm, Helsinki and others," he said.
KTB now aims to attract tourists from South-East Asian countries like Malaysia and Singapore, as these countries now have direct connectivity to a number of south Indian cities.
Google's Business Head India, Kiran Mani, said, "KTB is the first organisation to use Google's YouTube platform and make a shift from pure marketing to business marketing, which is not only cost-effective but also has a reach to right set of customer."
YouTube platform provides a rich multimedia experience to perspective tourists as visuals are not only interesting but also appealing. KTB's approach is rightly timed, as the holiday season in Europe and America is round the corner for which people start booking from now onward, he said, adding KTB can reach large number of audience outside India.
"YouTube in England has large following, it witnesses more hits than the circulation of any other newspaper in the country," Mani claimed.