After the Tatas, it's now the Jindals' turn to face the heat in Bengal. At a time when Sajjan Jindal's JSW Steel is busy countering the charges levelled against it in the Karnataka Lokayukta report, fresh trouble may be brewing in the east.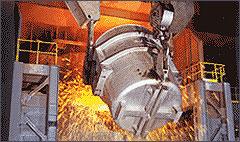 Not once, but twice, West Bengal Chief Minister Mamata Banerjee has pulled up Sajjan Jindal at public fora to convey her disapproval over the delay in the 10 million tonne project at Salboni in West Medinipur.

"We had not done anything (agitated) at Salboni, but they have not been able to do the project so far," Banerjee recently said in a television interview. Her comments came less than two months after her first investors' meet, where she mentioned the Salboni project in the context that certain industrial groups were sitting on land, but not doing anything. JSW Steel, though, is currently working on its township for the adjoining steel plant.

"Around 1,800 people are currently working at the site, and we have built a 35-km boundary wall. It's not that the land is lying idle," a JSW Steel official said in the company's defence.

What has put the project - largely seen as Banerjee's predecessor Buddhadeb Bhattacharjee's pet project - on shaky ground is that it is yet to get into a lease agreement with the state government for the land.

That leaves JSW Steel precariously placed. The state government, for instance, used the same scenario to dispossess Tata Motors' vendors from Singur. The Singur Act specifically mentions that the ancillary units did not take any step for obtaining a lease in terms of letters of allotment.

The vendors were given permissible possession as the agitation against the project had started and the land acquisition had been challenged in court.

"Why have they been unable to get 14Y approval since 2007 and what work have they done since then?" asked West Bengal commerce and industry minister Partha Chatterjee, adding, "I have sent an MLA, and will go myself to check what work they are doing at the site. They have been allocated coal blocks also, but what work have they done?"

Chatterjee's sentiment runs through the government. Sajjan Jindal has been requesting for a meeting with the Chief Minister for a while now, but is yet to get a date.

Even the private land that has been bought by JSW Steel has not been registered. "We have to register the entire land, for which the lease agreement for the government land has to be in place," the JSW Steel official said.

The previous government last year decided to vest the land with the government and give it to JSW Steel on lease. The Cabinet had approved that, but procedural delays held up the implementation.

"That Cabinet decision, I understand, has been scrapped. In any case, they will need approval under 14Y for the private land," said a minister in the earlier Left Front government.