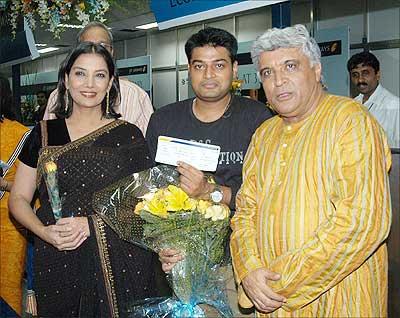 Jet Airways launched its debut flight from Brussels to India on Monday, becoming the first private Indian carrier to fly to and from continental Europe.

The flight to Mumbai was flagged off by the Indian ambassador to Belgium and the European Union Dipak Chatterjee from the Brussels national airport on Monday morning.

On Sunday, Jet Airways launched its first flight from Mumbai to the US with a two-hour stopover in Brussels. The airline will fly from India through Brussels to Toronto on September five and to Johannesburg in November.

Jet Airways established an operational hub in Brussels in May to provide enhanced connectivity between India, Europe, Africa and North America. The airline has also entered into a codeshare agreement with Brussels Airlines -- Belgium's main carrier -- for flights from Brussels to Delhi, Mumbai, Toronto, Stockholm, Oslo, Birmingham, Geneva and Madrid.

The airline expects to expand the agreement to include 25 routes ex-Brussels, Bernard Guisset of Jet Airways Belgium said on Monday.

Guisset, who heads the 35-people strong Europe office, added that the airline's future plans include 10 daily flights from Brussels to cities in India and the US, Canada and mainland Europe.

"Jet Airways was looking for an opportunity to combine its expansion plan to USA and Canada with an efficient hub in Europe together with a stronger national carrier offering a wide network ... we have found it all at Brussels," the airline's chairman, Naresh Goyal said in a statement.
Jet Airways has plans to operate flights from Bangalore, Ahmedabad and Chennai to Los Angeles, Chicago and New York (JFK)
via its Brussels hub. Currently seven EU carriers fly to India, while two Indian carriers -- Air India and Jet Airways -- fly to Europe.
Each week more than 130 flights operate between India and EU. According to the European Commission report on civil aviation relations with India, the number of seats available on scheduled nonstop flights between the EU and India has increased by 70 per cent to about 5 million since 1990.
A total of 17 city-pair routes operate between India and the EU, where Germany holds the biggest share of the nonstop scheduled traffic, followed by the UK, France and the Netherlands. This is expected to change as the Brussels-hub becomes more important for Indian carriers.
The city is a major cargo-hub for the European region. India's state-owned international carrier, Air India, is negotiating to create an operational hub in Brussels. International passenger traffic to India is expected to grow by 7.8 per cent annually according to the International Air Transport Association, while the Indian cargo market is expected to grow by 8.4 per cent annually.
Presently, Indian airports handle about 2.5 million international passengers and 13,200 international flights during a peak travel month.
Actor Shabana Azmi, Lyrist Javed Akhtar alongwith Jet Airways New York flight first passenger A Mehta at the launch of Jet Airways Mumbai to New York services in Mumbai on Saturday night at Chhatrapati Shivaji International Airport
.
Photograph
:
Arun Patil