Has also sought permission to share with Virgin Atlantic for new routes in Britain

Jet Airways has sought the civil aviation ministry's approval to code-share with Abu Dhabi's Etihad Airways on flights to Africa, Europe and the US. Separately, it has also sought permission to code-share with Virgin Atlantic on its new domestic routes in Britain.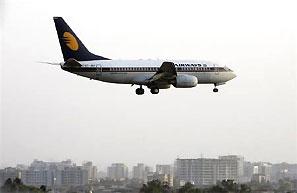 About 60 per cent of Jet's revenue comes from international operations. The airline has code-sharing agreements with 10 airlines. It earns about 15 per cent of its revenue from marketing tie-ups such as code-sharing and interline agreements, which allow it to sell tickets on flights operated by its partner airlines, including Brussels Airlines, Air Canada and Qantas. Etihad has code-sharing agreements with 42 airlines.

Currently, Jet and Etihad code-share on flights between India and Abu Dhabi, as well as those between Abu Dhabi and Paris. Now, Jet has sought the Centre's approval to enable it to widen the network and increase revenue. It plans to expand the scope of the code-sharing agreement to include European cities such as Dusseldorf, Frankfurt, Munich, Milan, Geneva, Istanbul and Dublin, destinations to which Jet has no flights. It has also sought permission to code-share on flights to Nairobi, Johannesburg and cities in the US. Similarly, Etihad has sought approval to code-share on Jet's flights to Kathmandu, Dhaka, Colombo, Bangkok, Hong Kong and Singapore, it is learnt.

In April, Jet Airways and Etihad had entered into a strategic alliance, through which the latter would acquire 24 per cent stake in the Indian carrier for about Rs 2,060 crore (Rs 20.60 billion). Jet would create a hub in Abu Dhabi and start services to cities in the US, Africa and West Asia. Abu Dhabi would serve as its gateway for flights to the West. Jet plans to launch new services to important cities in the Asia-Pacific, including Ho Chi Minh city (Vietnam), Manila, Shanghai, Sydney and Tokyo.

A source said the airline might introduce flights to Shanghai by the summer of 2014, while flights to Japan and Australia would be introduced later, depending on the availability of aircraft and allocation of traffic rights. Earlier, Jet operated flights to San Francisco via Shanghai. However, it stopped the service because of losses on the route.

What are code-share alliances?
Legacy full-service airlines build networks in two ways - deploying own capacity or partnering other airlines through commercial agreements. These include interline agreements and code-shares, which allow an airline to sell tickets on flights operated by other airlines. While interline is an arrangement to sell tickets, a code-share is akin to a commitment to sell the tickets. In a code-share agreement, an airline places its code on flights operated by the other airline.

Code-share provides airlines better revenue options than interline agreements, as airlines allow a partner the opportunity to sell tickets in six to eight fare slabs. In a typical interline agreement, two or three fare slabs are available for sale to the other airline. A code-share alliance also helps frequent flyers earn miles, something interline arrangements don't.