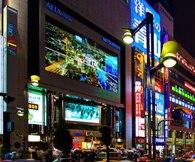 Returning to growth after three quarters of contraction, the Japanese economy grew 1.5 per cent in the three months ended September.
The quarterly growth of the world's third largest economy, after being crippled by tsunami and earthquake disaster in March, indicates better business conditions despite the gloomy global financial situation.
Latest data from the Japanese Cabinet Office released showed that national economy expanded 1.5 per cent in the September quarter.
The improved GDP figure comes mainly on the back of higher exports and demand from the private sector.
Since December 2010 quarter, the economy has been contracting and slumped into recession after the natural calamities in March.
In the three months ended June, the economy shrank 0.3 per cent and the country saw negative growth of 0.7 per cent in both 2011 March as well as 2010 December quarters.
Even though, latest growth numbers are encouraging, there are rising concerns about appreciating yen and possible fallout of European debt turmoil on the Asian economic major.
In recent times, the Japanese government has pumped in hundreds of billions of dollars to bolster the sagging economy, including a stimulus of over $150 billion.