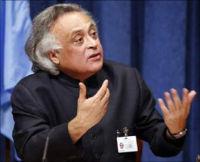 Environment Minister Jairam Ramesh on Monday granted final approval to Orissa for diversion of 1,253 hectares of forest land for Posco's steel project but said the South Korean steel major should not export raw material from the proposed project.
"In view of the state government's latest communication of April 29, final approval is accorded to the state government for diversion of 1,253 hectares of forest land in favour of Posco," he said in a statement in New Delhi.
Ramesh, who gave the clearance to the company in January on certain conditions including ensuring of tribal rights and compensatory afforestation, said:
"Posco would also bear the cost of regeneration of an equivalent amount of open, degraded land in a district to be determined and indicated by the state government."
Observing that the MoU signed between Orissa Government and Posco in 2005 had expired last year and "has yet to be renewed", he said: "I would expect that the revised MoU between the state and Posco would be negotiated in such a manner that exports of the raw material are completely avoided."
He said the expired MoU had provisions for the export of iron ore "which made me deeply uncomfortable with this project".