Tobacco-to-hospitality major, ITC, has officially raised cigarette prices across select brands by 15-20 per cent.
A dealer said the new 10-stick packet of Navy Cut will cost Rs 59 now, compared to Rs 49 earlier.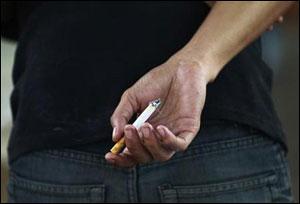 For the Classic brand, a 20-stick packet will now cost Rs 136, instead of Rs 116. Gold Flake (Kings) will also be available for Rs 136, compared to Rs 116, while Gold Flake regular will be available at Rs 55 as against Rs 48.
"All the packets carrying the new price tag have hit the market. Only some brands' new stock is yet to arrive but the best sellers are now present with the new price tag," the dealer said.
ITC manufactures three of every four cigarettes sold in India. A price rise was on the cards since the finance minister raised the excise duty in the budget. Since early March, stockists and dealers have been charging more from consumers.
According to an analyst at Sharekhan Ltd, the ITC move was in line with Street expectations. "They had to do this. While the volume sales will mostly remain flat, the price hike would keep the margins alive at 31-32 per cent in the cigarette business," he said.
In his Budget speech in February, Finance Minister P Chidambaram had said: "What does a finance minister turn to when he requires resources? The answer is cigarettes. I propose to increase the specific excise duty on cigarettes by about 18 per cent. Similar increases are proposed on cigars, cheroots and cigarillos."
The analyst added that another round of price rise could be on the cards, as some states had increased the rates for value-added tax on cigarettes. "Thus, another four to five per cent hike cannot be ruled out," he said.
West Bengal and Assam are among states which have raised tobacco taxes in their budgets.