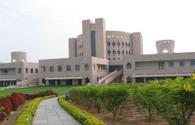 The Indian School of Business (ISB) is the only one in the country to find a place in the list of top 20 B-schools in the world, published by the Financial Times.
According to a data compiled by FT, the ISB has improved its position to bag the 12th spot in the list of top 100 B-Schools across the globe in 2010.
The London School of Business topped the list, followed by the University of Pennsylvania and Harvard Business School.
Stanford University GSB and Insead have been ranked at the fourth and fifth positions, respectively.
This is the third successive year that the ISB has featured among the top 20 business schools. It was ranked at the 15th spot in 2009 and at the 20th in 2008.
"We began with the idea of creating a school in India that would rank among the best in the world. Today, I am delighted that the ISB is consolidating its position as a top-ranked global business school," ISB chairman Rajat Gupta said in a statement.
Among others who cornered a place in the top 20 are the Columbia Business School, Yale School of Management and the Duke University.