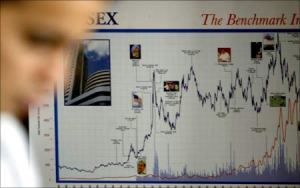 A clutch of IPOs, including Asia's third biggest by state-run NHPC, has propelled India to the sixth position in the list of most active nations in the global space of initial public offerings this year.
Though there has been a drastic fall, both in terms of IPO volume and value so far this year compared to last year, experts say the lull in the primary market is finally over and the markets are showing some signs of recovery.
"The IPO activity in India has reached $707.1 million through five deals in 2009 so far this year, down 85 per cent from $4.9 billion via 36 deals in the comparable period last year," global deal tracking firm Dealogic said in a report.
The report further said the recent lull in the market is finally over and the current bullishness in the primary market, has jacked up India to the 'sixth most active nation in terms of global IPO activity so far this year, accounting for around 3 per cent of global IPO volume.'
Dealogic further said NHPC's IPO would be the largest in India since Reliance Power's $2.6 billion deal in January 2008, and the third largest IPO in Asia (ex Japan) region so far this year.
This year five companies, including NHPC have hit the primary market but it was the IPO by Mahindra Holidays that enthused the corporate world to raise funds from the capital market.
NHPC's IPO for 167.73 crore (1.67 billion) shares in the price band of Rs 30-36, which will close on August 12, was fully subscribed within an hour of the opening of the issue and has been subscribed nearly six times till date.
Earlier, in July this year two IPOs -- Excel Infoways and Raj Oil Mills -- got fully subscribed on the final day of the offer, and raised over Rs 190 crore (Rs 1.9 billion) from the primary market.
In February, Chennai-based EdServ Softsystems managed to raise over Rs 20 crore (Rs 200 million).
Dealogic further said "Enam Financial Consultants is the top bookrunner for India IPOs from 2005 to 2009 YTD, with $2.5 billion through 50 deals, followed by Kotak Mahindra Finance with $2.4 billion via 40 deals, and Bank of America Merrill Lynch with $2.3 billion by way of 24 deals."
At the beginning of 2009, there was a back log of about Rs 75,000 crore (Rs 750 billion) worth of IPO plans, including Anil Ambani's Reliance Infratel (Rs 6,000 crore or Rs 60 billion), Jaiprakash Power Ventures (Rs 4,000 crore or Rs 40 billion) and Future Ventures (Rs 2,660 crore or Rs 26.6 billion).
As many as 33 companies last year raised over Rs 18,000 crore (Rs 180 billion) via the IPO route, of which the bulk of the volumes came from the biggest IPO so far, mainly from Reliance Power's over Rs 11,000 crore (Rs 110 billion) in January.