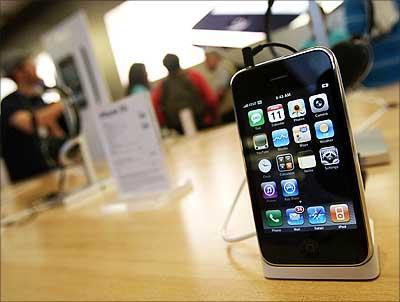 The iconic touch screen handset iPhone, it seems, is not as smart as it claims, with the United Kingdom advertising watchdog on Wednesday banning a television ad for over-hyping its Internet capabilities and misleading the consumers.
The 3G version of iPhone, made by American technology giant Apple of iPod music players and Mac computers fame, made a midnight debut in India last week after much fanfare.
In a ruling, the Advertising Standards Authority asked Apple not to broadcast its commercial that claimed that people can access all parts of Internet from the smart phone.
The ruling follows two complaints received by ASA against the TV ad that showed the phone in someone's hand and a finger switching it on to reveal the menu page.
The ad further shows the finger touch the weather icon to show the forecast for Cape Town and then navigate through a Heathrow Airport area map, a Safari icon, hotels and stock market Web page.
At the same time, the phone is shown ringing and then being answered, with a voice-over saying "You never know which part of the Internet you'll need. . . which is why all the parts of the Internet are on the iPhone."
However, the complainants said the claim about all parts of Internet being accessible was misleading because 'iPhone did not support Flash or Java, both integral to many Web pages.'
In its response, Apple said that the ad was aimed at highlighting
the 'benefit of the iPhone in being able to offer availability to all Internet Web sites, in contrast to other handsets which offered access to WAP versions or sites selected by service providers."
While noting that Java and Flash proprietary software was not enabled on the iPhone, ASA said that users would therefore be unable to access certain features on some Web sites or Web sites that relied solely on Flash or Java.
"We considered that, because the ad had not explained the limitations, viewers were likely to expect to be able to see all the content on a Web site normally accessible through a PC rather than just having the ability to reach the Web site.
"We concluded that the ad gave a misleading impression of the Internet capabilities of the iPhone," ASA said, while ruling that "the ad must not be broadcast again in its current form."
The multi-media rich mobile phone from Apple made its debut in India at the stroke of midnight on Thursday last.
The entry-level model is priced at Rs 31,000 for a 8GB memory, while the other model with 16 GB memory is priced at Rs 36,100. Two leading Indian mobile operators Airtel and Vodafone have launched the handset in the country.
Technology research firm IDC India's Naveen Mishra had said before the launch that "iPhone with Apple's brand equity, stunning looks and aesthetics is being viewed as the 'ultimate consumer mobile device to own' and is being promoted as such by the vendor."  -- PTI
Image: The new Apple iPhone 3G is on display | Photograph: Mario Tama/Getty Images