Indian Oil Company, the country's biggest oil marketer, is exploring a foray into merchant power and setting up a coastal refinery to cater to demand abroad.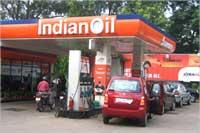 On passing on the price increase in petrol, a decontrolled product, the company said it would do so "at the earliest".

"It (raising petrol prices) is in our hands. The moment we think the environment is ready to accept it, it will be done," R S Butola, chairman, said in his first media interaction on Monday.

S V Narasimhan, the director (finance), said a conscious decision was taken to hold petrol prices. "We were hoping that international prices will come down," he said.

The company, like Hindustan Petroleum and Bharat Petroleum, the two other government-owned oil marketers, sells diesel, kerosene and LPG at government regulated prices.

In petrol, the companies have not passed on the increase for the past three months. The companies incur an under-recovery or revenue loss of Rs 16.10 on every litre of diesel, Rs 27 on every litre of kerosene and Rs 316 for every LPG cylinder.

The diesel price has not been raised since June 26 last year. The companies are also incurring an under-recovery of nearly Rs 7 per litre on petrol, though it stands decontrolled.

IOC is losing Rs 291 crore (Rs 2.91 billion) per day on the three controlled products. "We should be provided full compensation from the government," Butola said.

To take advantage of large quantities of pet coke from its refineries, the company is exploring venturing into merchant power.

"We are willing to trade power. We have captive power capacity and we also have a large volume of pet coke that can be used as feed to produce more power," Butola said. IOC currently has a captive power capacity of nearly 1,200 Mw.
The country's biggest refining company is also eyeing another coastal refinery to cater to export demand.

"At some point of time, we will evaluate a coastal refinery to cater to export demand," he said. IOC is setting up a 15-million tonne refinery at Paradip, a coastal site, that is likely to be commissioned in 2012.