Investors pumped in nearly Rs 47,000 crore (Rs 470 billion) in various mutual funds during October, making it the highest net inflow in six months, after a net outflow in the previous month.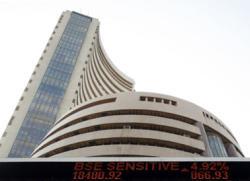 At gross level, mutual funds mobilised a total amount of Rs 592,871 crore (Rs 5.92 trillion), while there were redemption worth Rs 546,151 crore (Rs 5.46 trillion) as well - resulting into a net inflow of Rs 46,720 crore (Rs 467.20 billion), as per the latest data available with Sebi.

This was the highest monthly net inflow since April, when investors had poured in Rs 92,746 crore (Rs 927.46 billion) in mutual fund schemes. There were net outflows of Rs 51,907 crore (Rs 519.07 billion) in September.

However, investments made by mutual funds into the secondary stock market fell sharply in October to Rs 14,478 crore (Rs 144.78 billion), from Rs 46,911 crore (Rs 469.11 billion) in the previous months.

The mutual funds collect money from investors and later invest the same into various market segments including stocks, IPOs (primary market) and bonds.

Market analysts expect the net inflow into mutual funds to further pick up in the coming weeks, as the government and Sebi have expressed their intention to revive equity culture in the
country and help channelise the household income into stocks, mutual funds and insurance sectors, rather than in idle assets like gold.
"The current market conditions and wide-ranging reforms announced by Sebi to re-energise the mutual funds industry would help the sector to channelise funds in the equity market," Sudip Bandhopadhyay MD and CEO at Destimoney Securities said.
He also said the stock market and mutual funds stand to attract more investments from the Rajiv Gandhi Equity Savings Scheme, but it could be initially complicated for first- time investors.
"During October 2012, mutual funds saw a net inflow of Rs 46,720 crore (of which Rs 34,901 crore were mobilised by private sector and Rs 11,819 crore by public sector) as compared to a net outflow of Rs 51,907 crore (of which Rs 37,588 crore were from private sector and Rs 14,319 crore from public sector) during September 2012," Sebi noted.
This significant level of fund mobilisation has also helped the total asset under management of mutual funds to grow to Rs 7.68 lakh crore (Rs 7.68 trillion) as on October 31, 2012.
So far so far in current fiscal year (2012-13), overall net investment in mutual fund schemes rises to Rs 1.48 lakh crore (Rs 1.48 trillion) from Rs 96,566 crore (Rs 965.66 billion) mobilised in the corresponding period last year.