As more Indians go online, a boom in the Internet advertising industry is waiting in the wings with the digital medium poised to rule over all other media in the coming years, say experts.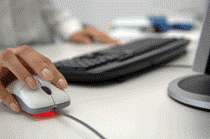 With over 49 million Internet users, the country's online advertising market is expected to surge to Rs 11 billion (Rs1,100 crore) this year registering a growth rate of almost 50 per cent, estimates Internet giant Google.
Due to its reach, impact and cost effectiveness, web advertising is fast becoming a preferred choice for most companies, cutting across segments.
"Keeping in view the rapid changes in technology, the trend obviously is moving towards the digital media. It is an alarm for advertisers to explore this wide platform and reach specific target audiences. A boom in Internet advertising is just waiting to happen as connectivity improves with the wider use of broadband," Narasimha Jayakumar, Business Head, Google India said.
With higher adaptability to technological changes the growth of Internet is predominantly driven by youth, who also form a major chunk of the advertisers' target segment. Pointing out to mature markets like the UK, where the market share of online advertising crossed that of print media advertising this year, Harish Bahl, CEO, online advertising agency Quasar Media, says the digital media is all set to rule in the coming years.
"There is no doubt that the digital media will reign supreme in the coming years. And that is why all large advertisers are making a beeline on the Internet," he says.
Scoring over traditional medium, particularly the print and television, the digital medium offers various advantages like precision targeting, measurable ROI, low entry-level fee and global reach.
"Added to all this is the fact that this is the only medium that lets one build long term relationship with the consumer, get their feedback and talk to them at various stages across the consumer value chain," says Harminder Kaur, Chief Strategy Officer, Ignitee Digital Solutions, a Mumbai-based Internet marketing agency.
According to a study by the Internet and Mobile Association of India, education and automobiles are the only two sectors which seem to be making the most of the online advertising space.
"Online ad spending by educational institutions is expected to grow by 76 per cent this year. Following this, automobile sector is expected to show the second highest growth rate of 46 per cent," says the report.
Big corporates like Coca Cola, HUL, Pepsi, Hyundai and ICICI are already dedicating considerable advertising spends on the online medium.
After YouTube's tie-up with IPL for live streaming of all cricket matches, mainstream advertisers like HSBC have also come on board.
"The new media is bringing about a revolution by merging the functionalities of customer end terminal devices like TV, PCs, mobile phones etc. The advent of 3G can fuel the convergence phenomenon by making the mobile phone a very handy tool for accessing video and audio formats," says a recent FICCI-KPMG report on the media and entertainment industry.
However, online ad spending is estimated to constitute only about 3 per cent of the total advertising spend in India.
"If we look at the sectoral view, online ad spending is much higher. For the travel and e-commerce sector, online spends are already more than 60 per cent of all advertising spends. Also for the auto sector, advertiser spends on the online medium this year is expected to between 8 to 10 per cent," says Google official.
Marketers are also of the view that the Internet has evolved itself to be an independent medium and cannot be seen merely as a platform to raise awareness levels or supplement other forms of marketing activities.
"Internet advertising is already an independent medium and its importance is increasingly being realised by all marketers as we move towards adopting a 360 degree approach in marketing," says Jayakumar.
 Subho Ray, president, IAMAI, however, says the Internet works best when complementing other media.
"No medium can be independent. But we feel that in any media planning, online should take the lead and other media planning should be based on that. Cross-media researches show how brand awareness and positive attitude towards brands have seen positive shifts when Internet is used to supplement other mass media activity," says Ray.
Industry experts say there are some issues like low penetration level of Internet services and slow connectivity which act as hurdles in the growth of web advertising.
"Also, the industry also needs to come up with a credible measurement system for analysing online advertisement data," suggests Harish Bahl, Quasar Media.