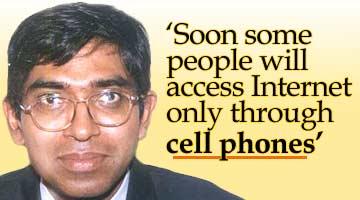 For Naresh Gupta, the 38-year-old managing director of Adobe India, the decision of his company to move him back to headquarters at San Jose, California, is a vindication of his eight-year effort in India.
The $1.9-billion Adobe recently announced that Gupta had been promoted as senior vice president of the key emerging business unit where he would amongst other things look at how best Adobe could leverage the evolving mobile environment.
Under Gupta, the Indian development centre of the software major, grew from just two people in 1997 to grown to over 500 people and it has filed about 25 patents. The development centre has doubled in size every 18 months and Adobe also prides itself on being the first international software company to have developed a full-fledged product in India - Page Maker 7-  in 2001.
Adobe continues to expand in India and by 2007 would have invested close to $50 million in the country.
Gupta will be the second Indian to be part of the executive management at Adobe. Adobe had recently announced the appointment of Shantanu Narayen as president and chief operating officer.
The son of a scientist, born in Bangalore and brought up in Lucknow, Gupta is a technocrat who has come a long way since graduating from IIT Kanpur.
Even as Gupta spoke with Sanjay Krishnan, his relocation details are being worked out and he is expected to be in San Jose by July, 2005.
Adobe has been ranked as the 13th best company to work for in America and also has been ranked highest on the list of Fortune's eighth annual 100 Best Companies To Work For.
Excerpts from the interview.
When do you expect to move to the United States and how do you look back at your stint in India?
By July, I should be in San Jose. It has been an exciting eight years. I have enjoyed a lot, have learnt a lot and given a chance I will do so all over again.
The learning has been immense. I had earlier, before coming to India in 1997, managed only engineering groups. This was the first opportunity I had to run a complete business. I got an opportunity to manage human resources, operations, finance, administration and at the end I became a more complete manager.
I had always wanted to run a complete business and it helped. I realised the importance of hard work and getting things done.
Now that you have spent eight years here in India with Adobe, how would you contrast the engineering pool here with the one that exists in the US?
There is a lot of difference in the talent pool in India and the US. In the US, you get a lot of people with experience and talent who have worked on deep technology areas (cutting edge technologies). In India, this is not the case. But you have a very young, talented and motivated workforce.
The experience levels are relatively low in India, but this is made up for by the enthusiasm and hard work they put in.
Could you tell us something more as to the reasons for this move?
Why the move? There are two parts to it. There is a management team here in India, which has turned out to be very good. The team here, they have made me redundant.
Adobe also had a better value proposition to offer to me. I am moving up as senior vice president (emerging business unit). The idea is that the new business unit will nurture new ideas; for example, mobility.
This is a lateral move. Not many get to play roles like this. This also shows how important Adobe perceives India to be. I am going to be part of the executive management of a $2 billion company.
I probably would not have gone there for anything else. The move means that I can paint on a global canvas and can make a larger difference to Adobe India also.
Would you elaborate on what your new role would involve?
At present mobile phones are being used primarily for voice. There is data traffic, but mostly in countries like Japan cell phones are used for e-mail and increasingly for accessing the Web and transaction-oriented tasks.
This is only the tip of the iceberg. We feel that very soon there will be a segment of people whose only experience to computing and the Internet would be through a mobile device.
How do you see that playing out?
There are challenges with doing every computing task on the mobile device, but form factors will evolve, devices will shrink and there are several other technologies in the labs that can -- to a degree -- overcome the challenge of small screen size of a mobile device.
Adobe already is a leader in creating, managing and delivering rich content for the desktop environment. What we are looking at is recreating this for the mobile device -- rich content like MMS, video streaming, graphics, rich text, et cetera.
Our whole effort would be to look at how we can make the mobile phone experience richer and better for mobile user and comparable to the experience on a desktop.
I will also be looking at other new business propositions related and aligned to Adobe's existing business lines and not just the mobile platforms.
Now that you have got the requisite experience of being a complete business manager, do you see yourself starting something of your own some time down the line?
I do not rule out starting something of my own. I am only 38 and I have age with me. I can afford to learn a lot more before I look at becoming an entrepreneur, but yes that dream is also there.
Design: Rahil Shaikh