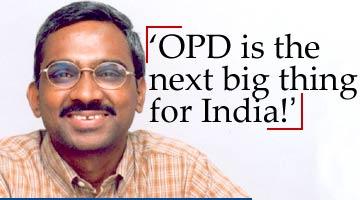 The question frequently asked these days is whether outsourced product development -- OPD -- is an emerging niche? The answer seems to be a resounding 'yes.'
The global market for product and technology services, otherwise known as outsourced product development, is set to grow to a whopping $8-11 billion by 2008, according to a Nasscom-McKinsey report.
Nasscom says that Indian IT industry export revenues from the Product and Technology Services have grown from Rs 5,100 crore ($1.08 billion) to Rs 6,600 crore ($1.40 billion) during financial year 2002-03, registering a growth of 29.4 per cent.
The share of the product and technology services pie in the total software and services exports has risen from 13.9 per cent in 2001-02 to 14.3 per cent in 2002-03.
The good news is that India is increasingly gaining prominence in the OPD space. Aspire Systems (India) Pvt Ltd is a fast-growing OPD firm focussed on assisting software companies create innovative products for the next generation.
Aspire's product development team is spread between its offshore innovation centre in Chennai and offices in the United States. Their focus has enabled an annualised growth of over 150 per cent for the past two years.
Gowri Shankar Subramanian, CEO of Aspire Systems who has a bachelor's degree in mechanical engineering and a master's degree in industrial engineering from Texas A&M University, elaborates on OPD, the new emerging market for India. Excerpts from an interview with Shobha Warrier.
Why did your company shift its focus to outsourced product development?
We focused on computer simulation in 1996. We shifted to software services and then to outsourced product development. It was a process of evolution that happened in the last two and a half years. In our pursuit to differentiate and specialise, we opted for OPD.
Our customers also drew our attention to a huge market for OPD. We realised that in the next few years, the cost advantage that India has would vanish. So, it was absolutely essential that we differentiated ourselves. We felt that off shoring can be secondary and not primary.
When did you realize that there is a huge emerging market for outsourced product development?
The potential or market size projected for India is about $8-11 billion by 2008 as estimated by a Nasscom-McKinsey study. This comprises three different revenue sectors: product revenues for creating products and selling; technology services for building products (which is what we do; here, the product is not ours but theirs) and from captive centers
Oracle, for example, has set up its own development centres. Revenues from all the three sectors are included in the $11 billion.
We are looking at 25-40 per cent of this $8-11 billion market. Right now, our piece of the pie is pretty small. It is about $2.5 million, which we anticipate will go up to $4 million by 2005. We are excited, as this market is new and growing very fast.
Do you feel you have a head start because you made an early entry?
Absolutely, we have a definite lead. Currently, there may be about four or five companies that completely differentiate themselves as specialists in OPD. Larger companies also have divisions that actually do product development but those companies can never have the same authority in the field like us because they do many other things.
You have registered 150 per cent growth in the last two years. Was it mainly because of your specialisation in OPD?
We attribute our success to OPD. We are also planning to move to the Sirusseri Information Technology Park by March 2005.
Where do your customers come from, the US or India?
Right now, we don't have any customers in India because there are very few big product companies here, and most of them do their own development. While 85 per cent of our customers are from the US, 10-15 per cent are from Europe.
Today, not many companies have the mindset to approach a product developer specialist, they will realise the scope of OPD gradually.
Why should a big firm go to a developer, instead of having its own research & development?
For software companies, the software they sell is their bread and butter. The faster they can develop a product, the faster they can add more features to it. If they can do it at a lower cost, they are better off in the market. So, companies come to us to do things faster.
That's the most important thing. We come in the picture because of the speed at which we work. There are also cycles in the software industry. So, they save a lot of money working with product developers or off shoring product development.
What kind of companies are likely to approach a product developer?
Currently, we are working more with medium size companies than with big ones. By the next year, we would be targeting larger companies like Microsoft, Oracle, etc.
Why should a big company approach a developer when they can do it in-house?
Time and flexibility are two main aspects. They have the flexibility to change their development road map by working with developers. The third key reason -- which concerns mid-size companies -- is that product development involves knowledge of robust architecture on which product needs to be developed.
Do you undertake the entire designing, development and testing process for companies?
We have different types of customers. Some are start up customers for whom we are the complete engineering team. The customers explain their vision, the market opportunity and requirements. We do everything from designing to testing for them.
But there are other cases where we primarily do only the development. In cases where there is a high-level design product, we do some low level designing and then do the development and the testing. We give the product back to them to introduce it to the market.
In certain other cases, we are involved primarily in testing, not even involved in development. For e.g., one of our customers has a consumer electronics software that actually allows transfer of songs from computers to cars through wireless when the car is parked in the garage. So, when you are on the road, you don't have to worry about taking the CDs. We test the software here and that involves a lot of testing. Other than product development and product testing, we do product implementation as well.
Which industry offers you the maximum number of contracts?
We get bulk orders from healthcare, supply chain, real estate, entertainment and media, and industrial automation. But we specialise more on the technology front than on the domain front. So, we don't necessarily go out looking for any industry. We look for software companies and they provide us the domain knowledge.
Most of the software companies provide service but as a product developer, you target a niche market. Is it a good business strategy?
We consider it an excellent business strategy. The reason being that irrespective of the company size, resources are always limited. So, each company needs to focus on what it needs to do. We believe that it is good business strategy to be strong in a particular area.
Is India a strong player in product development as it is in software services?
Yes, many companies are targeting India for product development, and moving to India. India is definitely one of the leaders in this field.
How is China placed in product development?
China will come up strongly in servicing Japanese requirements, especially software more related to hardware. Cost will not be a factor as far as product development is concerned, as expertise is the key. Companies prefer you not because you are based in India but because of your expertise.
Why did you then decide to move to India from the US, and outsource work?
India makes good sense to us in terms of cost. India also has good brain power, which can be exploited to provide good product development capability. China is not an ideal place for OPD today due to the lack of proficiency in the English language. Probably, in the next five years, they may pose a big challenge to India.
When do you think the product developers will be in great demand like the service providers are now?
In the next two years, the market will mature and companies will start outsourcing their product development activities.
Photo: Sreeram Selvaraj