India's second-largest IT services company, Infosys, on Wednesday said it was planning to offer an apprenticeship programme with the National Apprenticeship Scheme (NAS) in the United Kingdom (UK). Through this programme, the company will provide apprenticeship in fields like marketing, human resources, among others, Infosys said in a release.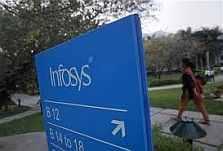 The deed was signed in the presence of  Prince Andrew, Duke of York, and Srinath Batni, Member of the Board and Head – Delivery Excellence, Infosys, in Bangalore.

The Bangalore-based company will provide apprenticeships to over 100
learners over the next five years across its offices in UK. The NAS in UK supports, funds and co-ordinates the delivery of apprenticeships throughout England.
"Infosys is pleased to be associated with the National Apprenticeship Scheme in UK and is committed to providing learners an opportunity to work and gain meaningful experience with us. Globally Infosys is committed to investing in the communities in which we operate. We look forward to bringing our world-renowned training and development approaches to help develop and grow skilled workers in UK," said Srinath Batni.