Contrary to the general perception that close-circuit television (CCTV) cameras can only record incidents, the 3,000-odd cameras in and around the Delhi airport can not only record but also raise an alarm the moment they detect anything unusual.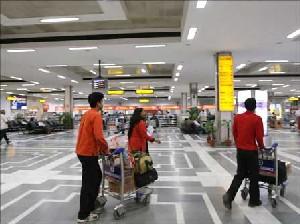 These upgraded security features have made the Delhi airport one of the safest in the country and also among the most secure in the world, say the authorities.

"With the kind of incidents happening, this is very important for us to ensure the safety and security of the people using our terminal and such cameras are a big helping hand," said a spokesperson of Delhi International Airport Ltd, the airport's operator.

"This makes the job of detecting the person monitoring the footage easier, as it is extremely difficult to monitor the footage from 3,000 CCTV cameras," the spokesperson added.

The footage from the operations side is monitored by DIAL and from areas apart from operations are manned by the Central Industrial Security Force (CISF).

Around 4,500 CISF personnel monitor the airport both from outside and inside. On the road approaching Terminal 3 and Terminal 1,
CISF has put a number of barricades to monitor the vehicles. It also carries out checks inside the vehicles whenever required.
T3, the largest terminal in the country, also boats of high-tech security features. The major ones include a five-level baggage scanning system and making key areas in the airport access-controlled.
"The baggage system is fully automated and is also being scanned while it is being sent to the aircraft. The baggage scanning is automated till the third level of check and the owner of the baggage is called to open the bag on the fourth level. The fifth level is required only when the baggage is detected with objectionable items and is taken out of the terminal building," said the DIAL spokesperson.
He, however, said there was a need to draw a balance between passenger safety and convenience.
"If we start checking all the vehicles approaching the terminal, many people will miss their flights. Our cameras take the picture of the number plate and the driver of every car coming to the terminal," the spokesperson added.
Every car is scanned on entering the parking area, where sniffer dogs do the round. The parking area at T3 can accommodate 4,500 cars.