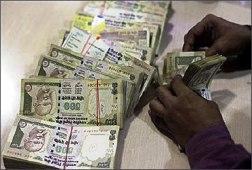 Inflation in India is higher as compared to other BRICS countries, Food Minister K V Thomas informed Parliament on Tuesday.

"According to the Reserve Bank of India sources, inflation in India is higher as compared to other BRIC nations," he said in a written reply to the Lok Sabha.

Inflation declined marginally to 7.45 per cent in October even though prices of food items like rice, wheat pulses and potato showed a rising trend.

Inflation, as measured by the Wholesale Price Index, was 7.81 per cent in September. In October last year, it stood at a high of 9.87 per cent.

Inflation for primary food articles under the wholesale price index has declined to 6.62 per cent in October from 10.91 per cent in June, Thomas said in his reply.

Rise in prices of essential food products are due
to several factors such as shortfall in domestic supplies relative to demand, hardening of international prices, changes in consumption pattern, adverse weather conditions, improved income, changes in dietary habits as well as insufficient logistics and shortage of storage facilities, he said.
Brazil, Russia, India and China and South Africa are the BRICS member countries.
On the recent hike in diesel price by Rs 5 per litre, Thomas said: "The full impact of the policy decision on the overall headline inflation will only be reflected in the subsequent months.
"However, as diesel is used in several sectors, any increase in price has a cascading effect on inflation."
Thomas said that the government is making constant efforts to bring food items within the reach of poor section of the society.
It has taken several steps to balance supply and demand and also curb price rise in essential items.