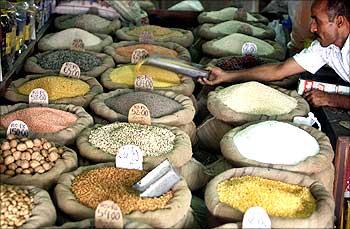 Left party activists on Thursday staged a massive demonstration in New Delhi as part of their nation-wide agitation to protest the government's policies and its 'failure' to check rising prices of essential commodities.
Top Left leaders Prakash Karat (Communist Party of India-Marxist), A B Bardhan (Communist Party of India), Debabrata Biswas (Forward Bloc) and Abani Roy (Revolutionary Socialist Party), led the demonstration near Parliament House.
Shouting slogans against the government, the activists gathered at Jantar Mantar this morning.
The protest was part of a nation-wide jail bharo agitation announced by the four Left parties.
To intensify the anti-price rise movement, the CPI-M has begun preliminary consultations with other secular opposition parties like the Telugu Desam Party, Janata Dal (United), Samjwadi Party, Bahujan Samaj Party and Rashtriya Janata Dal, party sources said.
A national-level action call is expected when these talks are formalised, the sources said, adding a meeting of the outfits and the Left parties is likely to be held before the Budget session of Parliament resumes on April 15.
CPI-M has earlier announced that it plans to mobilise about 25 lakh (2.5 million) people across the country for their jail bharo agitation against price rise.