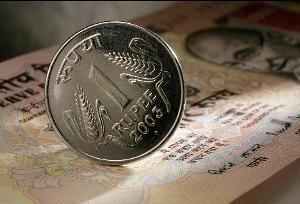 Rising prices of food items like pulses, sugar and vegetables pushed up inflation to minus 0.21 per cent for the week ended August 22, a rise of 74 basis points over the previous week.
Though inflation remained negative for the 12th week in a row since the week ending June 6, experts say it's only a matter of time before the wholesale price-based inflation turns positive owing to unrelenting rise in food prices.
Inflation for the previous week was minus 0.95 per cent and it stood at 12.76 per cent in the corresponding week last year. The build up of inflation in the current financial year so far is 5.29 per cent.
Sugar price rose by 7 per cent during the week that ended on August 22. Similarly, fruits and vegetables became costly by 4 per cent, jowar, urad and bajra by 3 per cent each, and maize and arhar by 2 per cent each.
"It (rise in inflation) is a major jump. The market was expecting it to be minus 0.87 per cent. Prices of agricultural products in general and food in particular shot up over the week," HDFC Bank chief economist Abheek Barua said.
Other items that became expensive during the week include aviation turbine fuel and electricity (5 per cent each), oil cakes (5 per cent), imported edible oil (4 per cent), and plastic items (6 per cent).
Prices of food articles that rose by one per cent each during the week include moong, tea, butter and ghee.