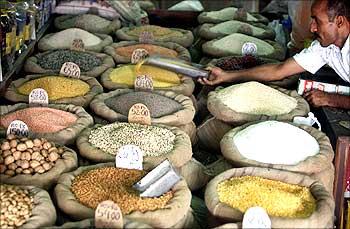 Inflation remained in negative territory for the eighth consecutive week, falling marginally to minus 1.58 per cent for the week ended July 25, even though the prices of food articles continued to soar.
Though inflation, based on the wholesale price index,  declined by 0.04 percentage point against minus 1.54 per cent in the previous week, food articles like sea fish, pulses, fruit and vegetables, groundnut oil and sugar became dearer.
However, eggs, soyabean, oil cakes and imported edible oil became cheaper during the reporting week. Prices of fuel, power, and light and lubricants remained unchanged over the previous week.
"WPI, which is in the negative zone, is an unnecessary distraction for policy making as prices of food and other commodities are going up," economic think-tank Indian Council for Research on International Economic Relations director Rajiv Kumar said.
On possible reactions by the Reserve Bank, which plans to reverse its expansionary policies on fears that inflation can soar again, Kumar said, "Nothing. The RBI, itself, would be looking at the consumer price index before deciding anything."
Inflation during the corresponding week last year was 12.53 per cent.
The Reserve Bank of India, in its first quarterly review of its monetary policy, has projected that inflation will move up to five per cent by the end of March 2010.
During the reporting week, prices of sea fish went up eight per cent, arhar by four per cent, urad by two per cent, and fruit and vegetables, moong, mutton, wheat, masur and condiments and spices one per cent each.
Cotton seed oil, groundnut oil and sugar, too, became costlier by one per cent each over the previous week. Other items that became expensive include cotton yarn, zinc ingots, steel ingots and lead ingots.
However, prices of eggs declined two per cent, raw wool 11 per cent, soyabean five per cent, oil cakes three per cent and imported edible oil by one per cent during the week.
Other items that became cheaper include synthetic yarn (four per cent), polyester staple fibre (three per cent), and newsprint and white printing paper (one per cent each).
The government revised inflation for the week ended May 30 to 0.90 per cent from the earlier reported 0.13 per cent.
Image: A shopkeeper sells pulses. | Photograph: Amit Gupta/Reuters