Close on the heels of 4.5 per cent hike in CNG prices, Indraprastha Gas Ltd may raise the rates by another Rs 4 per kg this year, as the company is forced to buy expensive imported liquefied natural gas (LNG) in the absence of allocation from domestic fields.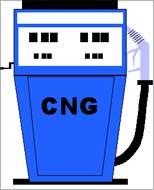 IGL had this month raised compressed natural gas (CNG) prices in the national capital by Rs 1.25 per kilogram to Rs 29 per kg and piped cooking gas to Rs 26 per cubic meter, as it bought more of imported LNG to meet the rising demand.

The CNG demand in Delhi is growing in double-digits and IGL is expanding in adjoining cities like Ghaziabad for which the government has not allocated any gas source, sources privy to the development said.

IGL has exhausted all of the 2 million cubic meters per day (mmscmd) of natural gas allocated for Delhi from state-run domestic fields while Reliance Industries' has curtailed supplies to 0.15 mmscmd against an allocation of 0.308 mmscmd.

Sources said the twin factors have forced IGL to buy imported liquefied natural gas (LNG) which costs USD 8-10 per million British thermal unit as against USD 4.2 per mmBtu price, at which gas from state-run fields and that from Reliance is available.

In case there is no additional allocation of gas from domestic fields and Reliance does not restore supplies to the original contracted volumes, IGL may be forced to raise CNG prices.

The hike could be by Rs 1 per kg in the second quarter of 2011 calendar year, by Rs 2.75 per kg in July-September period and by Rs 4 per kg in three months ending December 31.

In the national capital region, IGL has an allocation of 2 mmscmd from state fields for Delhi, 0.2 mmscmd for Greater Noida and 0.5 mmscmd for Faridabad and Gurgaon.

There is no such allocation for Ghaziabad, where IGL is rapidly setting up CNG dispensing stations and piped gas network.

Sources said IGL has asked the government to merge together its state gas allocation of 2 mmscmd for Delhi, 0.2 mmscmd for Gautam Budh Nagar and 0.5 mmscmd for Faridabad and Gurgaon as an overall allocation of 2.7 mmscmd for Delhi, Noida, Greater Noida, Ghaziabad, Faridabad and Gurgaon.

The merging of allocation is important because IGL is developing city gas in the national capital region as one uniform entity.

IGL, sources said, has also sought an allocation of state gas for distribution in Ghaziabad.