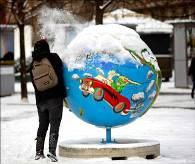 Combining their respective strengths in creativity and research, Indian and US firms can grow their business relationship in the coming years and contribute to the global economy, says a study.
Complementary partnerships in innovation that utilise the cutting edge of US research and the creativity of Indian companies will benefit businesses in both the countries, said the study prepared by KPMG and US India Business Council (USIBC).
"Indian enterprises can benefit from serving the world's most sophisticated consumers in the US. US companies on the other hand can begin comprehending the needs of future markets which lie in emerging economies," said KPMG US Partner and Head of US-India Practice Arun Kumar.
The study said both the countries are at a critical juncture. India is poised to become a major economic and political power in the world in the years to come, while the US is at an inflection point where its next stage of evolution can have a major impact on the world economic order, it added.
Besides, it said the two countries are facing similar opportunities and challenges like addressing large labour force potential, internally driven domestic demand profiles, and suitable employment generation in an era of services-led growth.
The report further said, "as partner democracies who share so many common values, the US and India are powerfully positioned to advance prosperity in both countries and around the world." KPMG India Partner and Head of US-India Practice Pradeep Udhas said, "Joint initiatives harnessing talent from both countries, can range from projects for space exploration or clean energy development to ones to promote industry and entrepreneurship in Africa."
The report said India has been identified as the third fastest growing investor in the US. Indian investments in the country increased from $4.5 billion in 2008 to $7 billion in 2009.
Besides, during 20042009, 90 Indian companies invested nearly $5.5 billion through 127 greenfield projects in the US.