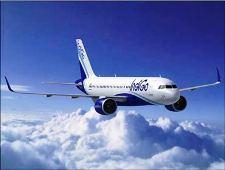 No frill carrier IndiGo has launched new flights from Mumbai to Kolkata, Jaipur and Nagpur.

The airline would be operating these flights with the newly acquired Airbus A320 aircraft.

The Mumbai-Kolkata flight will be its fifth daily and direct flight between the two metropolis, while Mumbai-Nagpur and Mumbai-Jaipur would be its third daily and direct
flights between these cities.
"With the increased flow of tourist and business traffic to and from Mumbai, along with the growing demand for connectivity with metros and tier-II cities, we are pleased to provide direct and daily connections and additional frequencies to meet the requirement of our customers," IndiGo president Aditya Ghosh said.
At present, there are 405 IndiGo flights connecting 33 destinations across the nation, a statement from the airline said.