The government on Wednesday said India's exports to China have declined by 19.65 per cent during the first six months of the current fiscal, leaving trade deficit of over $21 billion.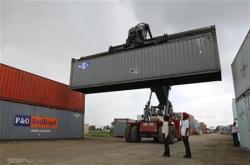 The decline in exports can be attributed to decrease in the shipments of iron ore, other ores and minerals, plastics, electronic goods, drugs, transport equipment and so on, Minister of State for Commerce and Industry D Purandeswari said in a written response to the Rajya Sabha.

In absolute terms, India's exports to China totalled $6,408.11 million during the first half of the 2012-13 fiscal.

India's imports from China for April-September, 2012-13 reached $28,028.24 million, recording a decline of 2.45 per cent as compared to the same period of the previous fiscal, she said.

"Since our imports
have been more than the exports to China, it has resulted in trade deficit with China," she said.
Trade deficit between India and China stood at about $21.6 billion in the April-September period of the current fiscal.
The decline in bilateral trade can be attributed to overall negative global sentiment because of economic recession and low demand from the US and Europe, the minister said.
Ban of exports of iron ore from Karnataka and Goa also contributed to decline in India's export to China, she added.
India had the highest trade deficit of about $40 billion with China in 2011-12.
In a separate reply, Purandeshwari said, some countries such as Kuwait, UAE, Oman, Nepal and Saudi Arabia have imposed a ban on the import of poultry products from India, due to bird flu.
The exports of poultry products to these countries have stopped, she added.