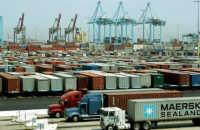 India's exports fell by 14.8 per cent year-on-year to $22.4 billion in July this year due to the global demand slowdown.
In July 2011, the country's shipment stood at $26.3 billion. Imports too contracted during the month by 7.61 per cent to $37.9 billion, leaving a trade deficit of $15.5
billion, says DGFT Anup Pujari.
During the April-July period of 2012-13, exports have shrunk by 5.06 per cent to $80.4 billion. Imports during the period dipped by 6.47 per cent to $153.2 billion.
"Last month, exports have fallen more than imports. This is the highest fall this fiscal," says Pujari.