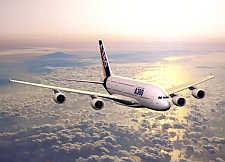 India's domestic air traffic declined substantially by over nine per cent in February compared with the same month last year, as on average over a quarter of seats remained vacant on flights in this period, global airlines' body IATA has said.

In its latest global passenger traffic results, the International Air Transport Association found the domestic traffic in India dropping 9.1 per cent in February compared to a year ago.

This decline occurred even when the global passenger demand rose 3.7 per cent compared to February last year.

The results also showed that the overall passenger load factor slipped to 74.5 per cent, implying that on an average only so much of seats in an airplane in India was filled up.

Passenger load factor is a measure of how much of an airline's passenger-carrying capacity or aircraft seats offered is used.

In addition to the slowing economy, the IATA said
Indian carriers have been reducing capacity from the previously unsustainable levels. This capacity declined 7.5 per cent in February, it said.
The decline in India's domestic air traffic seemed to be an exception, as the global traffic results showed that the demand growth was "accelerating on the back of stronger business confidence, particularly in emerging regions."
Since October last year, global passenger demand has been growing at an annualised rate of nine per cent, which was "almost double the growth trend over the first nine months of 2012."
In the international market, Asia-Pacific carriers recorded an increase of 4.5 per cent during the same period.
"Continuing improvements in China's economy and growth in intra-Asian trade provided strong support to the passenger business of the region's airlines. With this robust performance, demand associated with Asia-Pacific's emerging markets has been a major driver of the stronger growth in international traffic seen recently," the IATA said.