At a time when bankers across the world are being termed as 'London Whale', hedge-fund sharks and various other deadly creatures, Indian financial system remains intact despite its "boring banking" tag, industry leader Deepak Parekh said on Tuesday.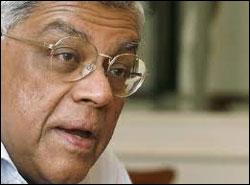 Noting that the regulation of Indian financial system has been appreciated globally and the robustness of banking system here is very much intact, Parekh said even most of the restructured loans are not stressed because of poor credit quality, but due to "prevalent policy uncertainties".
Speaking at Motilal Oswal Annual Global Investor Conference here, the eminent banker and financial services giant HDFC Chairman said a rock-bottom level of investment cycle in the country has indeed taken a toll on banking sector.
But, India has got far too pre-occupied with its "woes on slowing GDP growth, policy paralysis, inability of the government to push reforms; and investor confidence being shaken due to GAAR and other tax uncertainties."
"In the process, we seem to have forgotten that the key fundamentals of the economy are very much intact in India," he said, while listing out factors like a young population, growing middle class, better job opportunities, rising disposable incomes and a high household savings rate.
Parekh said banks are taking unprecedented beating globally amid issues like subprime crisis, collapse of financial institutions, Eurozone debt crisis, rate rigging scandal and failures to prevent money laundering.
"And, of course, the London Whale, hedge-fund sharks and heaven knows what other deadly creatures are lurking in the financial world!" he said in a lighter vein.
On the other hand, he said, Indian banking has been fairly isolated from this chaos, in part because it "was never as sophisticated or complicated as that of the Western world."
"To my mind, the winning strategy for banks in India is 'Basic Banking Model' - what is otherwise known as 'boring banking'. There is enough of retail business potential for all existing banks, new banks (as and when fresh licences are given), NBFCs and microfinance companies and other players," he said.
Parekh said there are various factors that will continue to drive the Indian economy and consequently the Indian financial sector. "While investor or business confidence has taken a beating in the recent period, consumer confidence has continued to remain robust," he said.
Parekh has been at the forefront of top industry leaders voicing their concerns over a slow pace of economic reforms and growing perception of policy paralysis in recent months.
He further said that banking, the world over, works on the principles of trust and confidence and in the recent period and both have reached a record low.