Despite a cut in petrol prices, oil marketing companies are finding it hard to sustain their operations due to high borrowing costs and delayed compensation from the government.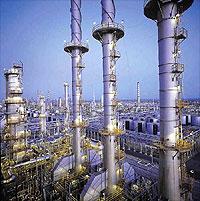 To offset the problem, partially, they have adopted austerity measures.
IndianOil Corporation, Hindustan Petroleum Corporation and Bharat Petroleum Corporation (BPCL) posted a combined net loss of over Rs 13,986 crore (Rs 139.86 billion) for the July-September quarter.
Financial health of these companies suffered as the government did not granted them cash compensation for selling diesel, kerosene and cooking gas below the market rates.
"We are monitoring our inventory levels on a daily basis. Overall exposure in inventory, crude, working capital and products is to the tune of Rs 10,000 crore (Rs 100 billion).
If we can bring it down five per cent, it would result in saving Rs 500-800 crore (Rs 5-8 billion).
This cash release will help reduce our borrowings. We are also looking at having a crude inventory of 12 days instead of the earlier 16 days, to manage cost," said S Varadarajan, director finance, BPCL.
The company has so far borrowed Rs 25,500 crore (Rs 255 billion) against its limit of Rs 30,000 crore (Rs 300 billion) of the capacity.
Its under recovery for the September quarter stood at Rs 5,200 crore (Rs 52 billion) against Rs 10,300 crore (Rs 103 billion) for June quarter this financial year.
HPCL said it has begun controlling its expenditure. "We are minimising our travel expenditure and looking at reducing expenses on training and other activities. We plan to reduce our total costs by 10 per cent," said an HPCL official.
Last week, HPCL chairman and managing director Subir Roy Choudhury had said the company would introduce austerity measures to reduce operational costs. The company, which has a borrowing limit of Rs 35,000 crore, has already exhausted Rs 31,000 crore (Rs 310 billion).
"We have Rs 4,000 crore (Rs 40 billion), which we will use to manage the next four months. We are looking at curtailing unnecessary expenditure," the HPCL official added.
IndianOil said it has always been following an austerity drive. IOC, which posted its worst-ever half-yearly performance last week, said its borrowings surged to Rs 73,296 crore (Rs 732.96 billion) and it may face problems in getting loans from banks after December.
It is buying crude oil with borrowed money at present and said, this could hamper import of crude to run its refineries.
"We will face problems in raising money after December. We will not have enough money to import crude. We will be forced to shut down some refineries and supplies will suffer," R S Butola, IOC chairman said. IOC posted a net loss of Rs 7,486 crore (Rs 74.86 billion) in the second quarter. Its revenue loss for selling fuel below market rates stood at Rs 11,757 crore (Rs 117.57 billion).
These oil marketing companies are selling diesel at  Rs 8.58 a litre below the market rate and losing  Rs 25.66 a litre on kerosene and  Rs 260.5 per cylinder on cooking gas.