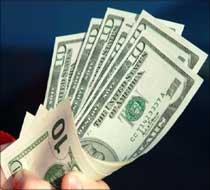 The value of merger and acquisition deals involving Indian companies witnessed a 56 per cent decline year-on-year to $5.91 billion in the third quarter of 2011, according to a report by global consultancy firm Grant Thornton.

Though the total value of merger and acquisition deals in the third quarter this year dropped by 56.25 per cent, there was an increase in the number of transactions, according to the latest issue of Grant Thornton's Dealtracker report.

Commenting on the findings, Grant Thornton India Partner and Practice Leader, Valuations, Srividya C G said: "There has been a trend reversal, with a higher proportion coming from outbound deals, unlike the first half of the year."

During the third quarter of this calendar year, there was a significant increase in cross-border transactions, wherein 63 such deals worth $4.88 billion were announced, accounting for over 80 per cent of the total value of M&A deals.

Meanwhile, there were 86 domestic deals worth $1.03 billion during the quarter.

The trend was exactly opposite last year, wherein domestic deals worth $11.69 billion were announced and cross-border deals were valued at just $1.82
billion.
"While cross-border transactions have shown growth, there is a considerable decline in domestic M&A.
However, there is an increase in the overall activity, which is seen by an increase in the number of M&A transactions," Srividya said.
An industry-wise analysis shows that the mining sector accounted for the lion's share of M&A deals during the quarter in terms of value, primarily due to two large outbound transactions.
The telecom industry was the second-most targeted sector, while the power and energy sector saw the third-highest transaction value.
Out of $4.88 billion worth of cross-border deals in the third quarter of 2011, the total value of outbound deals -- Indian companies acquiring or merging with businesses outside India -- was $3.69 billion (via 29 deals), five times more than the year-ago period in terms of value, Grant Thornton said.
In the corresponding period last year, 39 outbound transactions worth $0.63 billion were announced.
Meanwhile, the total value of inbound deals -- foreign companies or their subsidiaries acquiring or merging with Indian businesses -- in the third quarter was $1.19 billion through 34 deals, Grant Thornton added.