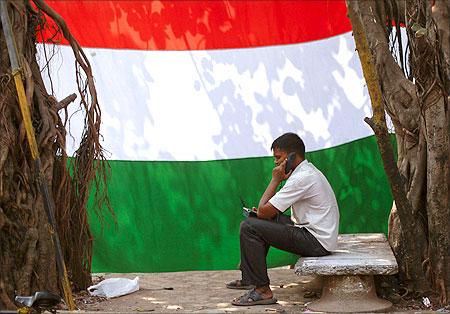 India has emerged as one of the most optimistic economies in the world where more than two-thirds of employers are planning to add full-time and permanent workforce in 2013.
According to CareerBuilder's first annual job forecast for the 10 largest world economies, as many as 67 per cent of Indian employers plan to increase full-time permanent workers this year, 13 per cent plan to decrease and 17 per cent are expecting to make no change in the number of staff.
Emerging economies are the most aggressive in terms of hiring plans despite a slowing in economic expansion.
As many as 71 per cent of employers in Brazil intend to hire this year followed by India at 67 per cent, China (52 per cent), Russia (48 per cent), the US (26 per cent), Germany (29 per cent), the UK (30 per cent), Japan (22 per cent), France (24 per cent) and Italy (19 per cent), the survey conducted by Harris Interactive said.
Brazil houses the largest percentage of employers adding headcount (71 per cent), partly influenced by plans to host the upcoming World Cup and Summer Olympics and a better performing manufacturing sector.
Notwithstanding the fact that China and India's GDP have grown at a rate that far outstrips the rest of the world's major economies, more than half of employers in China and two-thirds in India plan to hire in 2013, the survey that covered over 6,000 hiring managers during November said.
"Hiring activity in the BRIC countries (Brazil, Russia, India and China) is projected to be significantly higher than other markets while recruitment in Europe remains sluggish as leaders struggle to resolve a debt crisis that has global implications," CareerBuilder CEO Matt Ferguson said.
Ferguson added that "the overall hiring picture is improving, but companies will remain watchful as they navigate headwinds and manoeuvre through somewhat precarious economic terrain."
Meanwhile, one-third of Italian employers (33 per cent) expect to downsize staffs, the highest of the top 10 economies, while recruiting activity in France is expected to be flat.
In the US, concerns over the fiscal cliff during the time of the survey may have resulted in more conservative predictions, but hiring activity has been on a gradual upward trajectory.  Around 26 per cent will add new jobs this year.
Across major markets, employers are most likely to hire for positions that are closely tied to revenue and innovation. In case of India, the top areas organisations will be hiring for included information technology, marketing and customer service, the survey said.