Planning Commission on Monday said India will not be able to achieve USD 1 trillion target for investment in the infrastructure sector during the 12th Plan (2012-17) in view of lower economic growth prospects.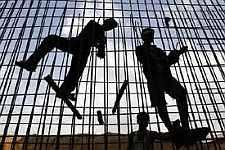 "The earlier figure was based on the 9 per cent growth target and if the growth target is less, it (investment target) does not have to be same number," Planning Commission Commission Deputy Chairman Montek Singh Ahluwalia said when asked about trimming of the infrastructure investment target.

"Obviously, if the five year perspective is lower than 9 per cent then investment requirement would also be lower. I don't think that USD 1 trillion should be seen as sacrosanct figure. I don't regard the USD 1 trillion figure as some kind of figure written in stone," he said.

"The figure was given two years ago when the rupee-dollar exchange rate was Rs 44. So we are calculating,
what is needed in rupee. So the dollar equivalent of that is bound to change," Ahluwalia said.
The Commission had set the USD 1 trillion target with an assumption that the economy will grow at the rate of 9 per cent during the 12th Plan period.
"The cumulative investment in infrastructure in the 12th Plan is targeted at around USD 1 trillion. Nearly half of this investment will be channelised into construction projects," the Commission had stated in its Approach to the Plan.
The paper was approved by the country's apex decision making body National Development Council (NDC) last year.
About the growth prospects, Ahluwalia said, "Given the situation around the world and our own domestic current growth prospects, I think achieving 9 per cent for five year average, is just not going to be feasible."
The Commission was earlier eyeing annual average economic growth rate of 9 per cent during the 2012-17 period, which was also approved by the NDC last year.