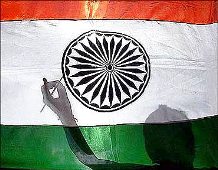 The World Bank said on Monday India would go back on to a higher growth trajectory, by clocking a gross domestic product growth of six per cent in 2013-14, and even higher thereafter, on the back of global recovery.

World Bank President Jim Yong Kim, who is on a three-day visit to India, said a projected five per cent GDP growth in the current financial year was disappointing, but future prospects for the country were good.

"India is going to grow by 6 per cent next year and we hope for even more increase in future…," Kim told reporters after a meeting with Finance Minister P Chidambaram.

The Indian economy was subject to global slowdown, he said, adding as export market started doing better, we think India would do better as well.

"The growth rate of five per cent has been somewhat disappointing, but we are very encouraged by what has happened and what will happen and we think India will get back to higher levels of growth," said Kim, on his first visit to India after taking charge at the Bank in July last year.

In his meeting with the finance minister, Kim talked about the World Bank's new
agenda on global poverty reduction and shared prosperity. He assured adequate support to India in meeting the developmental challenges being faced by the country.
Chidambaram informed the World Bank president about the challenges faced by the Indian economy at present, and reforms undertaken by the government in the recent past.
He further emphasised the need for enhancing the capital base of the bank to meet the challenges of poverty reduction and infrastructure development in the developing countries.
The two discussed options for increasing external finance for infrastructure, as well as for other development needs of India.
Issues related to global economy and its impact on Indian economy were also discussed.
India is the highest cumulative borrower of World Bank of $90.5 billion; with a current portfolio of 77 projects having a commitment of $23.3 billion.
During his visit, Kim will also meet Prime Minister Manmohan Singh apart from several other leaders in government, the private sector, and civil society.
He is scheduled to visit Uttar Pradesh tomorrow and meet Chief Minister Akhilesh Yadav. He would visit Lucknow and Kanpur and see development challenges in the state, which accounts for the largest number of India's poor.