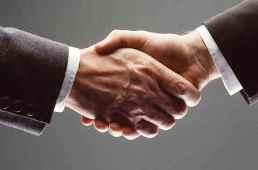 The bilateral investment treaty being negotiated between India and the US will help provide strong rules on investor protection and effective means for resolving business disputes between the two countries, the American government has said.

The US and Indian governments are actively engaged in Bilateral Investment Treaty negotiations, he said.

"We are aiming for a BIT that provides a high level of openness to investment across the economy, strong rules on investor protection and transparency, and effective means for resolving investment disputes," Under Secretary for Economic Growth, Energy & Environment Robert Hormats said at the annual India Investment Forum in New York on Monday.

Hormats called on Indian companies to voice support for a strong agreement that would provide them with the same protections for their investment in the US that American investors would receive in India.

"We in government are doing our part so smart investors and corporations can continue to allocate capital, investments and people to their most productive ends.

"In order to make a robust BIT agreement a reality, the business leaders from Mumbai and Manhattan -- perhaps even Delhi and Dallas, or Lucknow and Los Angeles -- must spearhead private sector advocacy for an agreement," he said.

Hormats pointed out that creating a stronger US and global economy, with more jobs for Americans, is the foremost priority of the Obama administration.

The state of the global economy still poses acute challenges and the Obama administration remains focused on creating US jobs and getting the American economy growing faster.

"But job creation is not a zero-sum activity," he said, adding that America will continue to focus on representing the interests of its citizens and businesses as they participate in the global economy.

"India looms large within our economic statecraft
agenda.
"When American firms look to India, they see extraordinary promise, enviable demographics, and a business culture that celebrates innovation and entrepreneurialism.
"We all know the Indian economy has vast potential," he said.
The challenges that India is seeing due to slowdown in its gross domestic product growth, devaluation of the rupee and high inflation are surmountable, Hormats added.
He said the challenges underscore that steps toward fiscal consolidation like reducing subsidies are very important.
"Overall, the future for economic partnership between the United States and India is bright," Hormats said.
He added, however, that in the current changing global economic reality, the US is not the only one that sees the India growth opportunity and cost of inaction on part of the the US will be great.
"Staying ahead of the competition is becoming as important in international economic affairs as it is in business. India's trade with others has been accelerating at a rapid clip, and this is not happening in a vacuum," he said.
The US share of FDI into India is declining relative to countries like Japan and France.
In 2010, Japan directed more FDI into India than the US and these business ties are being cemented in trade agreements.
"Japan, Canada, and the EU aren't waiting -- they're acting. So why should we," he said.
The development of trade and transit links between Southeast and East Asia has been hindered for decades by poor regional infrastructure connectivity, the isolation of the Myanmarese government, and political mistrust between India and its neighbours.
However, Myanmar's recent political and economic reforms along with continuing efforts by India and Bangladesh to improve bilateral relations have generated new opportunities to promote US and Indian business interests and regional economic development.
"Given the vast potential, we should look to partner in this emerging region," he said.