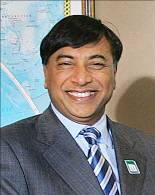 Lakshmi Mittal, India-born chairman and chief executive officer of the world's largest steel producer, ArcelorMittal, said despite the expanding steel making capacity in India, the country is set to face a massive shortfall in supply in the coming decades.
He estimated this could be as high as 33 million tonnes by 2020, is equivalent to two-thirds of the country's current output.
Making his presentation at the annual Investor Day, simultaneously in London and New York, Mittal said shortfall in supply is expected to increase rapidly from 2015, leaving a potential 30-33 million tonne gap to be filled.
Against a current capacity of 51 million tonnes, he projected the supply base to increase to 131 million tonnes (based on projected expansion plans of all steel makers in India) by 2019. Demand during this period, he said, would expand from a current level of 56 million tonnes to 150 million tonnes in 2019 and to 164 million tonnes by 2020.
In his media statement, Mittal said, "ArcelorMittal is a stronger company after the (global economic) crisis. We now have more efficiency, a stronger balance sheet, lower costs and a very clear steel and mining growth strategy keeping in line with our financial objectives."
In 2009, ArcelorMittal had revenues of $65.1 billion and crude steel production of 73.2 million tonnes, representing approximately eight per cent of world steel output.
He also projected a further $2 billion savings from more efficient operations, with $500 million savings on account of fixed costs, $500 million savings due to better yield and productivity, and another $300 million savings in input costs.
Mittal also emphasised that future capital expenditure will depend more on free cash flow (FCF), generated by the business and leveraging through borrowings.